Over 4,000 U.S. Sailors And Marines Being Sent Towards Israel
Chris Menahan
InformationLiberation
Oct. 17, 2023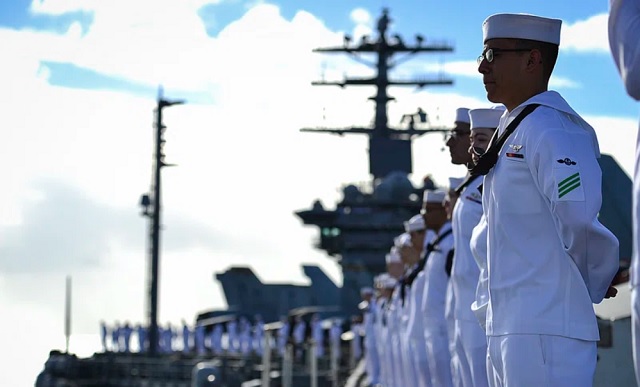 A group of over 4,000 American sailors and Marines (the equivalent of 307 Israelis) are being sent to gather off the coast of Israel in a show of force against Israel's enemies.

From The Washington Post, "U.S. sending sailors, Marines toward Israel, defense officials say":

The United States is sending an amphibious task force of thousands of U.S. sailors and Marines toward Israel, where they will be positioned aboard warships in case the conflict there with Hamas expands.

Two defense officials, speaking on the condition of anonymity to discuss planned military movements, said Monday night that the Bataan Amphibious Ready Group, numbering more than 4,000 sailors and Marines, will join a growing American fleet off the coast of Israel that will include two aircraft carriers and their associated escort ships.

The 26th Marine Expeditionary Unit, based at Camp Lejeune, N.C., is deployed with the amphibious task force. The Marine unit is trained for a wide array of missions, including some special operations. The USS Bataan and the USS Carter Hall, two of the warships carrying personnel for the unit, were in the Gulf of Oman on Monday, having left Kuwait recently after Hamas's unprecedented cross-border attack on Israel on Oct. 7.

The third ship associated with the unit, the USS Mesa Verde, was in the Mediterranean Sea and was to head near the Israeli shore, defense officials said.
This 4,000 number includes the 2,000 troops CNN and others are reporting were only ordered to prepare for a potential deployment.

Israel is bombing Gaza to smithereens and our forces have been sitting off their coast to ensure the slaughter continues unabated.




Follow InformationLiberation on Twitter, Facebook, Gab, Minds and Telegram.