Breitbart Editor Joel Pollak: Israel 'Should Wipe Out Gaza' And The U.S. Should Take The Refugees
Chris Menahan
InformationLiberation
Oct. 14, 2023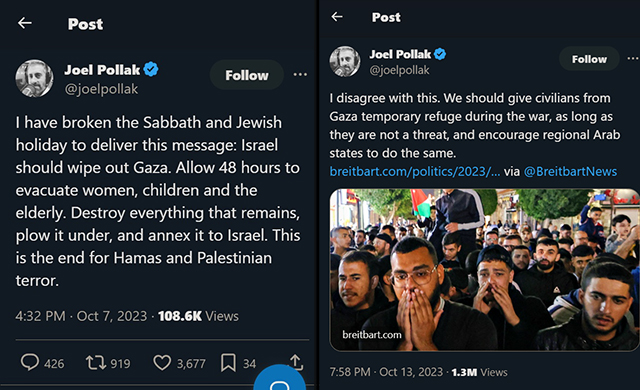 Breitbart editor-at-large Joel Pollak last Saturday announced he was breaking the Sabbath to call for Israel to ethnically cleanse Gaza and now he's calling for the US to take in the refugees.

"I have broken the Sabbath and Jewish holiday to deliver this message: Israel should wipe out Gaza," Pollak said after the war broke out. "Allow 48 hours to evacuate women, children and the elderly. Destroy everything that remains, plow it under, and annex it to Israel."

"We should give civilians from Gaza temporary refuge during the war," Pollak said less than one week later, criticizing a GOP effort to ban the US from accepting Palestinian refugees.

If anyone should be obligated to take these refugees in, it's Israel as they're the one's ethnically cleansing them and driving them from their lands. They claim they're only going after Hamas, so taking in two million Palestinian civilians shouldn't be a problem.

Follow InformationLiberation on Twitter, Facebook, Gab, Minds and Telegram.