'Are You Seriously Asking Me About Palestinian Civilians?': Ex-Israeli PM Naftali Bennett Erupts With Anger During Live Interview
Chris Menahan
InformationLiberation
Oct. 12, 2023


Former Israeli Prime Minister Naftali Bennett erupted with anger on Thursday after being asked by a Sky News reporter how Israel can justify cutting off power to hospitals and turning off life support to "babies in incubators" in Gaza.

"What about those Palestinians in hospital who are on life support and babies in incubators whose life support and incubators will have to be turned off because the Israelis have cut off the power to Gaza?" reporter Kamali Melbourne asked.

"Are you seriously keep on asking me about Palestinian civilians?" Bennett raged. "What is wrong with you?"

"We're fighting Nazis!" Bennett claimed. "I'm not going to feed electricity or water to my enemies!"


Bennett said that "if anyone else wants" to provide aid to Gaza then "that's fine -- we're not responsible for them."


"You listen to me right now," Bennett shouted. "I've heard you enough ... Shame on you! Shame on you mister! ... I was a Prime Minister!"

Bennett went on to justify targeting innocent Gazans by pointing to the firebombing of Dresden.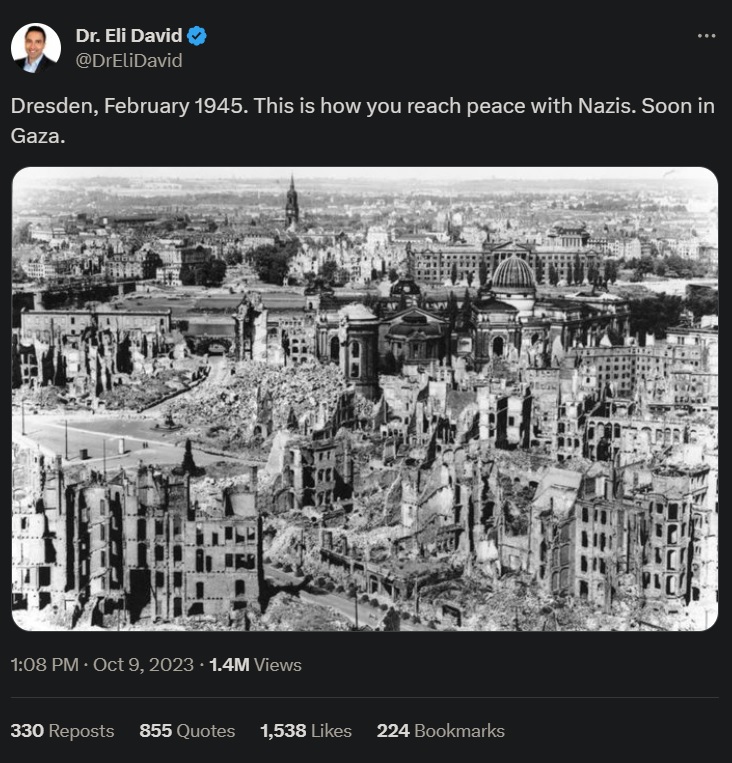 "When the UK, when Great Britain was fighting the Nazis in WW2 no one asked what was going on in Dresden!" Bennett said. "It was the Nazis targeting London and you targeting Dresden!"


Israeli officials have spent the past week demonizing Palestinians as "human animals" and pushing atrocity propaganda to justify the relentless carpet bombing of civilians in Gaza.

Bennett was undoubtedly shocked to have a reporter ask him real questions about the war crimes Israel is committing out in the open for the entire world to see.

Follow InformationLiberation on Twitter, Facebook, Gab, Minds and Telegram.