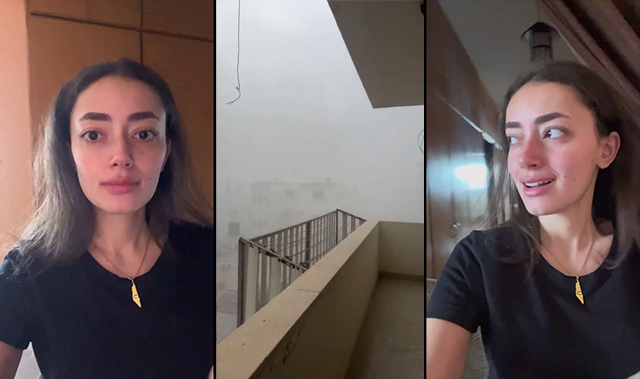 A young woman from Gaza has gone viral on social media for sharing snippets of her life as Israeli bombs paid for by American taxpayers rained down on her neighborhood.

"Here is the family, they're gathering all together, also in a place far away from the windows," 22-year-old journalist Plestia Alaqad says in the first clip she shared on Tuesday as massive bombs are heard exploding in the background. "I was trying to explain things but I think you can hear them now."

"There's literally no view, you can't see anything," Alaqad says, peering outside into clouds of debris.



"No place is safe," she says in another video. "Me personally I've evacuated three times since yesterday. Like, okay, they tell you to evacuate, you go to a friend's house, then they call them to evacuate, you go to another friend's house. The situation is just terrible... we don't have water, we don't have electricity, we don't have internet."




"The 22-year-old says she finally understands her late grandfather's stories about 'Nakba,'" Reuters reported, "referring to the 1948 war that created Israel and led to mass dispossession of Palestinians."

"To be honest, you know how some things you don't understand them unless you experience them? So I am 22 years old, yesterday, I understood the Nakba fully, completely. Like, okay, I know information about it but my mind, I couldn't process it to be honest, can't imagine until yesterday."



Plestia was invited on GB News' Breakfast Show and humiliated the arrogant hosts who were shilling for Israel:



Alaqad posted a video four hours ago, so hopefully she has yet to be killed.



Power supplies are running out and Israel's vicious blockade and relentless bombing campaign is still ongoing.





"My phone and laptop have died. No electricity as we're running out of fuel for the power generator, after Israel cut electricity and fuel supplies to Gaza," Middle East Eye correspondent Maha Hussaini said yesterday on Twitter. "This is what Israel wanted, to commit genocide against a silenced people."


The Middle East Eye reported Wednesday morning that "at least 1,055 Palestinians have been killed, with around 5,184 wounded, according to Palestine's Ministry of Health."

Follow InformationLiberation on Twitter, Facebook, Gab, Minds and Telegram.