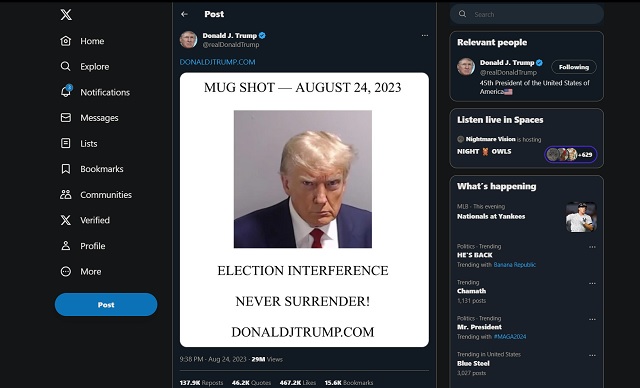 Former President Donald Trump returned to Twitter on Thursday night after his arrest in Georgia to post his epic mugshot.


His post links to DonaldJTrump.com, which forwards to a fundraising appeal on WinRed.

"What has taken place is a travesty of justice and ELECTION INTERFERENCE," Trump says on the site. "The Left wants to intimidate YOU out of voting for a political outsider who puts the American people FIRST. But today, I walked into the lion's den with one simple message on behalf of our entire movement: I WILL NEVER SURRENDER OUR MISSION TO SAVE AMERICA."

Trump's last post on Twitter was on Jan 8, 2021 before he was unceremoniously banned. His ban was reversed by Elon Musk after he took over the site.

Trump gave an interview to Newsmax on Thursday night bashing Attorney General Merrick Garland's "weaponized justice department."


"It's just one thing after the next," Trump said, they want to try and wear you out ... it's an absolute horrible thing that they're doing and I've never seen anything like it. This is [a] third-world country."

"They have no case against me at all -- they do it to try and get elected but also they do it in coordination with the Department of Injustice in Washington," he said.


Follow InformationLiberation on Twitter, Facebook, Gab, Minds and Telegram.