Tucker Cucks Fox News, Airs Interview With Trump at Same Time as GOP Presidential Debate
Chris Menahan
InformationLiberation
Aug. 23, 2023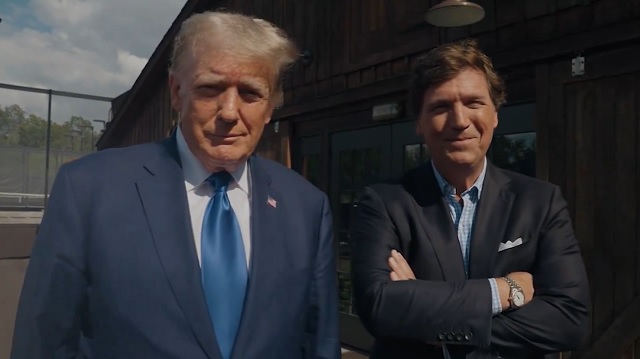 Tucker Carlson screwed over his former employer on Wednesday night by airing an interview with former President Donald Trump at the same time as the GOP's Trump-free presidential debate on Fox News.


Elon Musk helped hype the interview before it aired:


Fox News ordered a blackout on the Trump-Tucker interview, according to Semafor:

If you get your news just from watching Fox News, you might be surprised to learn that Donald Trump will not be attending Wednesday night's debate in favor of an interview with former Fox News host Tucker Carlson.

A survey of the last week's Fox News programming on the TV monitoring service Critical Mention confirms that the network has not directly mentioned that Trump will be forgoing the debate in favor of an appearance on Twitter with Carlson, the former Fox host who was fired by the network earlier this year.

Trump's appearance with Carlson has only been noted in two instances. During a broadcast of Fox and Friends on Monday, host Steve Doocy alluded to the interview, but did not mention that he was skipping to appear with the former Fox host.

"It sounds like the opposite -- he might drop an interview that was taped earlier last week and they would run that," Doocy said. "Unclear how long that would be or where it would run or any of that stuff."

In an appearance on Fox on Saturday, Trump surrogate Rep. Anna Paulina Luna raised Trump's decision to skip the debate, saying it was her understanding that "President Trump will not be attending the debate, but he'll be doing a sit-down with Tucker Carlson around the same time.

"I'll say this as a candidate who ran for office and attended and not attended certain debates: I think he actually made the correct decision," she said.
Fox News triggered outrage by claiming they have "exclusive media rights" to the debate and forbidding anyone from airing "more than a total amount of three minutes of excerpts" in any one program.


Tucker's tweet sharing his interview with Trump has so far racked up over 30 million views in just 20 minutes -- though that number is just impressions and doesn't equate to actual viewers.

It will be interesting to see whether Twitter will be able to handle the traffic considering the total disaster that was DeSantis' Twitter Space campaign launch with Musk.

Tucker pre-recorded the interview and uploaded it in full, so hopefully it will hold up.

Follow InformationLiberation on Twitter, Facebook, Gab, Minds and Telegram.