Whoops!

From The Daily Caller News Foundation, "Hawaiian Grid Operator Focused On Promoting Green Energy Instead Of Wildfire Preparedness":

Hawaiian Electric, the utility company whose power line reportedly played a role in the Hawaiian fires, appears to have focused on green energy development while neglecting to adhere to its own assessment that it needed to increase the safety of its existing infrastructure, The Wall Street Journal reported Wednesday.

The company concluded that it needed to take much more aggressive action to ensure that its hardware did not emit sparks after the 2019 wildfire season, which was one of the worst recorded in the island of Maui's history, according to the WSJ. The firm does not appear to have done much work to that end before one of its power lines reportedly triggered the spark for last week's fires that have killed at least 100 people, but it expended significant resources towards green energy initiatives in the years between its assessment and this week's fires, according to the WSJ.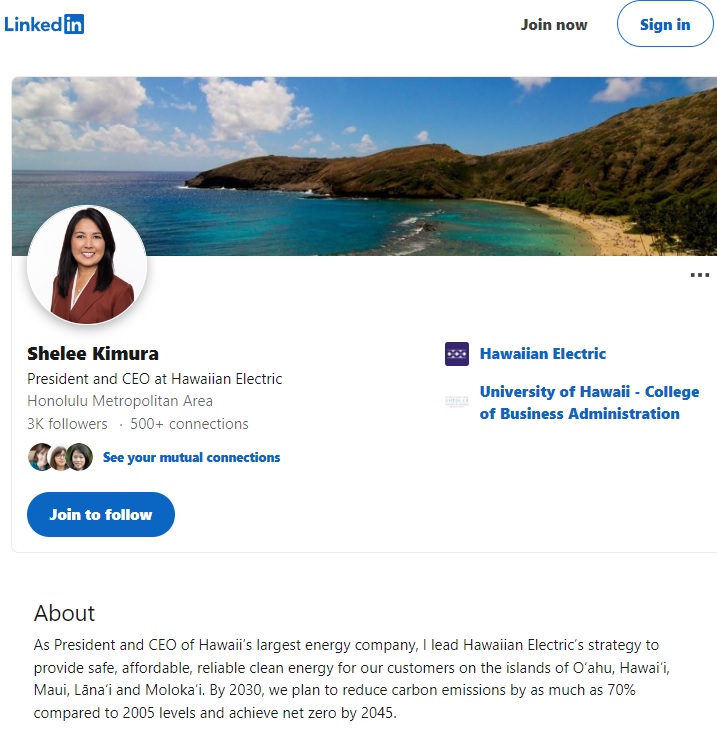 "While there was concern for wildfire risk, politically the focus was on electricity generation," Mina Morita, chair of the state utilities commission from 2011 to 2015, told the WSJ.

Hawaiian Electric spent less than $245,000 on wildfire-specific projects on the island between 2019 and 2022, after it had determined in 2019 that it had to do more to mitigate the risks posed by errant sparks, according to the WSJ. Despite issuing a press release in 2019 pledging to take action to reduce wildfire risk and increase preparedness, the company appears to have mentioned wildfire danger as an afterthought rather than a priority in regulatory filings with the relevant state agency, according to the WSJ.

During the same years that Hawaiian Electric had pledged publicly to take more action on risk reduction, the company undertook a massive campaign to reach the state's long-term green energy transition goals, according to the WSJ. A 2020 audit of the company's management systems found that its risk considerations were mostly focused on financial risks, with minimal analysis of operational risks, while the division within the firm that oversaw power line operations had significant management problems.

"Looking back with hindsight, the business opportunities were on the generation side, and the utility was going out for bid with all these big renewable-energy projects," Doug McLeod, who served for several years as the Maui county energy commissioner, told the WSJ. "But in retrospect, it seems clear, we weren't as focused on these fire risks as we should have been."
Videos have come out over the past few days showing power lines sparking ahead of the deadly fire.





Burning down our civilization is one way to achieve "net zero" emissions, I guess.


From CivilBeat, "A State Official Refused To Release Water For West Maui Fires Until It Was Too Late":

With wildfires ravaging West Maui on Aug. 8, a state water official delayed the release of water that landowners wanted to help protect their property from fires. The water standoff played out over much of the day and the water didn't come until too late.

The dispute involved the Department of Land and Natural Resources' water resource management division and West Maui Land Co., which manages agricultural and residential subdivisions in West Maui as well as Launiupoko Irrigation Co., Launiupoko Water Co., Olowalu Water Co. and Ha'iku Town Water Association.

DLNR delayed releasing water requested by West Maui Land Co. to help prevent the spread of fire, sources familiar with the situation said.

Specifically, according to accounts of four people with knowledge of the situation, M. Kaleo Manuel, a Native Hawaiian cultural practitioner and DLNR's deputy director for water resource management, initially balked at West Maui Land Co.'s requests for additional water to help prevent the fire from spreading to properties managed by the company.

According to the sources, Manuel wanted West Maui Land to get permission from a taro, or kalo, farm located downstream from the company's property. Manuel eventually released water but not until after the fire had spread. It was not clear on Monday how much damage the fire did in the interim or whether homes were damaged.

Manuel declined to be interviewed for this story. DLNR's communications office said in an email that it was supporting the state's emergency communications response and "unable to facilitate your inquiry at this time."
See: Complex Systems Won't Survive the Competence Crisis.

Follow InformationLiberation on Twitter, Facebook, Gab, Minds and Telegram.