Jewish Ohio Congressmen Demand Christian Woman Delete 'Bigoted' Tweet Praising Jesus: 'Jewish People Are The Chosen Ones'
Chris Menahan
InformationLiberation
Aug. 16, 2023


Jewish Ohio congressmen Max Miller (R) and Casey Weinstein (D) put their partisan differences aside on Tuesday to demand a Christian woman "delete" a "bigoted" Twitter post stating that salvation can only come through "having faith in Jesus Christ alone."

"There's no hope for any of us outside of having faith in Jesus Christ alone," former Ohio GOP operative Lizzie Marbach said in a standalone tweet on Tuesday.


"This is one of the most bigoted tweets I have ever seen," Miller raged in response before ordering her to delete her Christian proselytizing. "Delete it, Lizzie. Religious freedom in the United States applies to every religion. You have gone too far."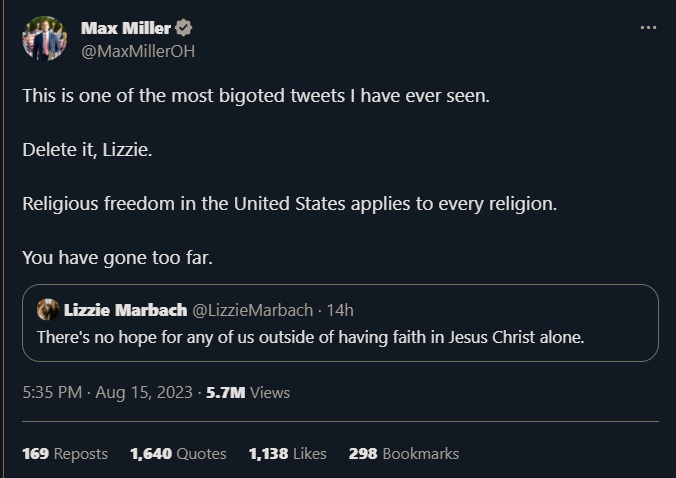 "God says that Jewish people are the chosen ones," Miller, a self-described "Proud Jew," said in another tweet, "but yet you say we have no hope."




Democratic Ohio Rep. Casey Weinstein, who is also Jewish, rushed to Miller's defense and joined in his demand for Marbach to delete her proselytizing for Jesus Christ.

"We may be on opposite sides of the aisle, but I stand right with Max on this," Weinstein said. "Delete it, Lizzie."




Despite the bipartisan group of Jewish congressmen uniting against her, Marbach refused to renounce her faith.

"Sorry, Congressman, but these are the words of Jesus himself," Marbach responded. "Jesus answered, 'I am the way and the truth and the life. No one comes to the Father except through me.' "

"No one has hope outside of Jesus Christ and every knee will bow one day declaring that Jesus Chris is Lord," she said.


Miller, who secured Trump's endorsement in 2021 and was appointed by the former President to serve on the board of trustees for the United States Holocaust Memorial Museum, later apologized for his tweet after getting backlash from Christians.

"I posted something earlier that conveyed a message I did not intend," Miller said. "I will not try to hide my mistake or run from it. I sincerely apologize to Lizzie and to everyone who read my post."




Weinstein also deleted his own tweet but did not apologize.

Do the views of either of these Congressmen in any way represent the average Ohioan?

UPDATE: Christian Woman Gets FIRED After Jewish Ohio Congressmen Accuse Her of 'Bigotry' For Sharing Gospel

Follow InformationLiberation on Twitter, Facebook, Gab, Minds and Telegram.