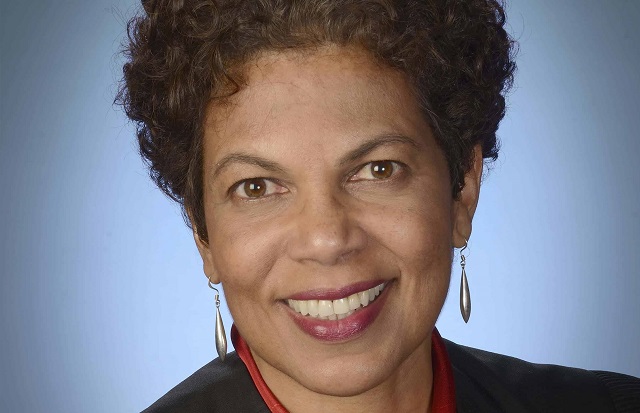 Tanya Chutkan, the Obama-appointed DC district judge assigned to Donald Trump's Jan 6 case, is reportedly "the only federal judge in Washington, D.C. who has sentenced Jan. 6 defendants to sentences longer than the government had requested."



From The New York Times, "Judge in Trump Jan. 6 Trial Is Known for Tough Capitol Riot Sentences":

When former President Donald J. Trump appears in court before Judge Tanya S. Chutkan on charges of conspiring to subvert American democracy, it will not be the first time she has dealt with high-profile questions related to Mr. Trump's attempts to stay in power after losing the 2020 election.

Nearly two years ago, Judge Chutkan rejected Mr. Trump's efforts to prevent his White House records from being given to the House committee investigating his actions leading up to and during the Jan. 6, 2021, attack on the Capitol by his supporters — delivering a swift and sharp rebuke about the limits of his ability as former president to invoke executive privilege.

"Presidents are not kings," she wrote, "and plaintiff is not president."
*Cue sassy finger snapping.*

[...] Judge Chutkan was appointed by President Barack Obama and, before joining the bench, donated money to his campaigns. [...]

[...] Judge Chutkan ruled against Mr. Trump in the dispute over White House papers with the Jan. 6 committee [...]

Born in Kingston, Jamaica, Judge Chutkan came to the United States to attend college at George Washington University and obtained her law degree at the University of Pennsylvania. She spent more than a decade serving as a court-appointed lawyer for indigent clients and worked for a time at the white-shoe law firm Boies Schiller & Flexner before joining the federal bench in Washington in 2014.

She is married to Peter A. Krauthamer, a former associate judge of the Superior Court in the District of Columbia, which handles local criminal trials.

[...] In 2017, she ruled that an American citizen being held in military detention in Iraq as a suspected member of ISIS had a right to a lawyer, over the Trump administration's objections. She also blocked the administration from preventing undocumented, pregnant teenagers from having access to abortion-related services.

And in 2019, she issued an injunction halting the Trump administration's plan to resume the death penalty, blocking executions of four federal convicts.

But her involvement in cases related to Jan. 6 is likely to attract the most attention as she takes up what seems destined to be one of the most significant criminal trials in American history. She handled both a lawsuit brought by Mr. Trump seeking to block his White House records from being handed over to the House Jan. 6 committee and several criminal cases brought against rioters in the Capitol attack.

Over the past two years, Judge Chutkan has earned a reputation for handing down tough penalties to people convicted of crimes in the Jan. 6 riot. [...]

The events of Jan. 6 were "an attempt of a violent mob to prevent the orderly and peaceful transfer of power from one administration to the next" and their efforts "soiled and defaced the halls of the Capitol," she said in October 2021 in delivering a harsher sentence to a rioter than what prosecutors had requested.

"The country is watching to see what the consequences are," she declared, adding, "There have to be consequences."
The New York Times is floating racial revenge as a motive for Chutkan to have Trump crucified:

As a matter of political reality, it may also prove significant that Judge Chutkan is Black, an immigrant and a woman. Mr. Trump has a history of attacking judges and prosecutors — especially those who are women, members of minority groups or both — in personal terms.

In 2016, Mr. Trump denounced Judge Gonzalo Curiel, who was overseeing a fraud case against Trump University, calling him a "Mexican." He accused the judge of bias because he wanted to build a wall on the southern border. (Judge Curiel was born in Indiana to parents who had emigrated from Mexico.)

More recently, Mr. Trump went after two Black prosecutors in New York — Alvin L. Bragg, the Manhattan district attorney, and Letitia James, the New York State attorney general — who have pursued cases against him. He has also lobbed attacks at Fani T. Willis, a Black district attorney in Georgia who may soon seek his indictment related to his efforts to overturn the election. Among other things, he called all three racists.
Chutkan helped secure a guilty conviction in the feds' comically weak case against Maria Butina, the Times reports:

In a 2018 case involving Maria Butina, a Russian accused of illegally acting as a covert foreign agent during the 2016 campaign, the judge imposed a sweeping gag order and then chastised Ms. Butina's defense lawyers for "trying this case in the media."

At a bond hearing, she scolded a defense lawyer for defying her warning not to publicly discuss evidence in the case. "You have overstepped," Judge Chutkan told him. "Your comments have crossed the line."
From The Daily Caller, "Trump's DC Judge Worked For Law Firm That Employed Hunter Biden, Lobbied For Burisma":

U.S. District Judge Tanya Chutkan of Washington, D.C., the judge overseeing former President Donald Trump's case in the district, previously worked at a law firm that once employed Hunter Biden and worked closely with Ukrainian energy firm Burisma.

Chutkan spent 12 years working for Boies, Schiller, & Flexner LLP (BSF) where she specialized in white collar litigation and antitrust defense, before she was nominated to her current position by former President Obama, her official bio states.


[...] Hunter Biden worked for BSF in the same year he was appointed to Burisma's board in April 2014. Hunter quickly brought BSF partners into the fold to assist Burisma with its efforts to influence U.S. officials, according to emails on Hunter Biden's laptop.

In April 2014, Hunter Biden and business associate Devon Archer spoke about how BSF could give them "protection" and work with government officials on Burisma's behalf.

"BSF can actually have direct discussions at state, energy and NSC. They can devise a media plan and arrange for legal protections and mitigate US domestic negative press regarding the current leadership if need be," Biden told Archer.

"The contract should begin now- not after the upcoming visit of my guy. That should include a retainer in the range of 25k p/m w/ additional fees where appropriate for more in depth work to go to BSF for our protection. Complete separate from our respective deals re board participation," Biden added.

Shortly after his correspondence with Archer, Biden set up a call with BSF partners including Christopher Boies and Heather King, the emails show.

King communicated with the State Department on behalf of Burisma founder Mykola Zlochevsky and strategized with Burisma on how to handle the press and influence government officials, emails from May 2014 indicate. She suggested Burisma hire professional lobbyists, a PR firm and an investigative research firm to bolster its influence operation, per the emails.
What a perfect example of the "rigged system" Trump campaigned against in 2016.

DC voted 92.15% for Biden vs. 5.4% for Trump in the 2020 election and yet Trump is going to be denied a change of venue (just like every other J6 defendant) and subject to yet another comically biased show trial.

Follow InformationLiberation on Twitter, Facebook, Gab, Minds and Telegram.