Bill Barr 'Says He'll Jump Off Bridge If Donald Trump Wins GOP 2024 Nomination'
Chris Menahan
InformationLiberation
Jul. 30, 2023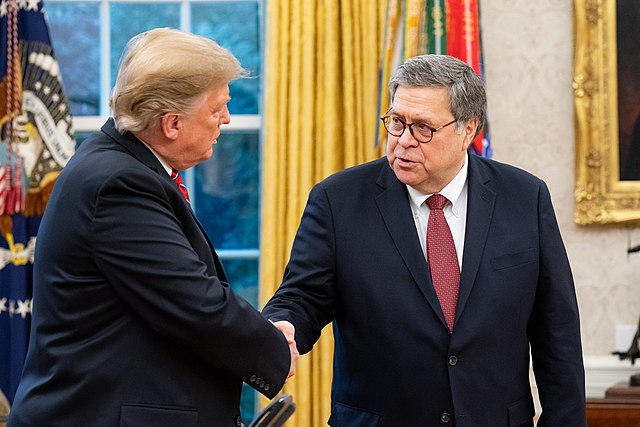 The case for voting Trump.

From The Daily Mail, "Former AG Bill Barr says he'll jump off a BRIDGE if his old boss Trump wins GOP's 2024 nomination - as 45th president continues to hammer DeSantis in polls":

Only four of the once-Cabinet members for former President Donald Trump publicly said they would support his reelection in 2024, according to a new report.

Several strongly oppose his campaign, some are even working against his bid to become the GOP nominee and many didn't respond to requests to comment on his efforts.

Former Attorney General Bill Barr has some of those most harsh words for his ex-boss, telling NBC News: 'I have made clear that I strongly oppose Trump for the nomination and will not endorse Trump.'

'I'll jump off that bridge when I get to it,' he added when asked how he would vote in the general election if it ends up being a 2020 rematch of Trump vs. President Joe Biden.
The Mail's headline was somewhat exaggerated but Trump has a lot of the right enemies. It's a shame he appointed so many of them to his cabinet.

Former Chief of Staff Mick Mulvaney said: 'If anyone can lose to Joe Biden, it would be him.'

Of the 44 people reached by NBC who served in Trump's Cabinet, only four publicly support and endorse his reelection. This includes former acting Attorney General Matthew Whitaker, his final Chief of Staff Mark Meadows, former budget chief Russell Vought and former acting Director of National Intelligence Richard Grenell.

Additionally, two former Trump officials are actually running against him in the GOP primary – ex-Vice President Mike Pence and former Ambassador to the United Nations Nikki Haley.

Trump's former Director of National Intelligence Dan Coats says he is backing Pence.
One would hope Trump wouldn't make the same staffing mistakes twice but he seems to think Grenell and Jason Miller are allies so I can't say I'm expecting much.

Follow InformationLiberation on Twitter, Facebook, Gab, Minds and Telegram.