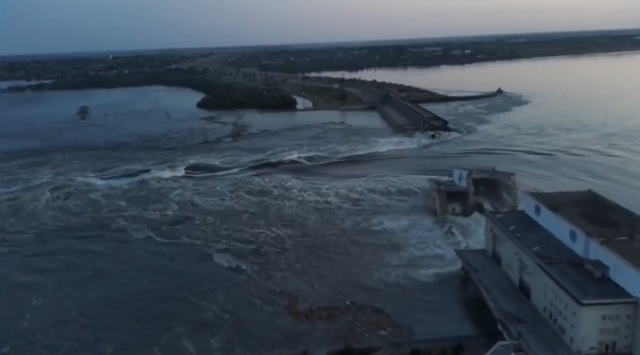 The Nova Kakhovka Dam in the Russian-controlled area of the Kherson region was "destroyed" on Monday night and may cause a devastating flood in southern Ukraine, deny Crimea water supplies and potentially risk a meltdown at the Russian-occupied Zaporizhzhia nuclear power plant.






"The Kakhovka Reservoir is a massive, man-made lake roughly the size of the Great Salt Lake in Utah," NPR reported earlier this year. "It is the final body of water in a network of reservoirs along Ukraine's Dnipro River. Since the 1950s, it has been used to provide drinking and irrigation water to parts of Ukraine's southern districts of Kherson and Zaporizhzhia. A lengthy canal leading from the reservoir also supplies Russian-occupied Crimea."

"At stake is drinking water for hundreds of thousands of residents, irrigation for nearly half-a-million acres of farmland, and the cooling system at the Zaporizhzhia Nuclear Power Plant," NPR noted.




Reuters described the impact blowing up the dam would have in an article in October 21, 2022:

What is the Kakhovka dam, is it about to be blown and what impact would that have?

SIGNIFICANCE OF THE DAM

* The dam, 30 metres (yards) tall and 3.2 km (2 miles) long, was built in 1956 on the Dnipro river as part of the Kakhovka hydroelectric power plant.

* It holds an 18 km3 reservoir which also supplies water to the Crimean peninsula, annexed by Russia in 2014, and to the Zaporizhzhia nuclear plant, which is also under Russian control.

* The volume of water in the reservoir is about equal to the Great Salt Lake in the U.S. state of Utah.

* Blowing the Soviet-era dam, which is controlled by Russia, would unleash a wall of devastating floodwater across much of the Kherson region which Russia last month proclaimed as annexed in the face of a Ukrainian advance.

* Destroying the Kakhovka hydro-electric power plant would also add to Ukraine's energy woes after weeks of Russian missile strikes aimed at generation and grid facilities which Kyiv said have damaged a third of its country-wide power network.
The Zaporizhzhia nuclear plant is upstream from the dam and relies on the reservoir for cooling.

Both sides are accusing one another of attacking the dam.




Follow InformationLiberation on Twitter, Facebook, Gab, Minds and Telegram.