MLB Drops 'Pride' Logo After One Day Amid Target, Bud Light Boycott Fears
Chris Menahan
InformationLiberation
Jun. 02, 2023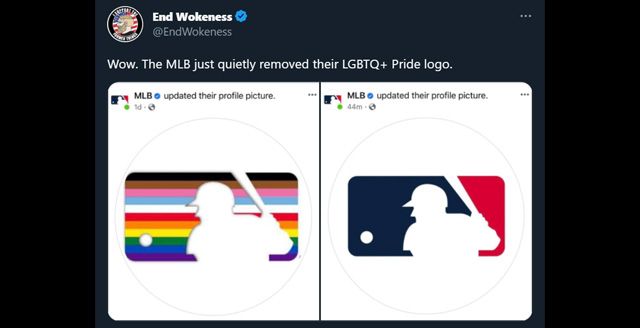 Major League Baseball dropped their LGBT Pride-themed logo on Facebook just one day into "Pride Month."


Their post unveiling their rainbow logo on Monday on Facebook was widely mocked by commenters.





Is this just a coincidence or is the fear of a conservative boycott actually having an effect?


I suspect the latter. Elon Musk's takeover of Twitter seems to have unleashed the right from their algorithmic shackles. Musk also removed the ban on "deadnaming" "transgenders."

Musk, who had one of his own children stolen from him by the LGBT mafia, is actively promoting Matt Walsh's film "What is a Woman?" on Twitter (after Twitter staff initially censored it and labeled it hate speech).





Incidentally, the US Navy also removed their "Pride" banner off Twitter after just one day.



The Pentagon on Wednesday also canceled a "family friendly" drag show planned to be held at the Nellis Air Force Base in Las Vegas for "Pride month."



"The DOD will not host drag events at U.S. military installations or facilities. Hosting these types of events in federally funded facilities is not a suitable use of DOD resources," Sabrina Singh, deputy press secretary, told the NY Post.

The backlash we've all been waiting for for years appears to finally be here. Though the regime is still trying to shove this garbage down our throats, conservative states are banning LGBT child genital mutilation, cross-sex hormones and puberty blockers, schools are banning LGBT indoctrination and multi-billion dollar megacorporations are being brought to heel.

This is the biggest win for the right since Roe v. Wade was overturned by the Supreme Court.

Follow InformationLiberation on Twitter, Facebook, Gab, Minds and Telegram.