UPDATE: My commentary piece "Black Teen at Center of 'Bike Karen' Dispute Admits He Was Gaming Welfare System to Ride City Bike For Free" may have been based off a wrong assumption on my part and I do not want to spread inaccurate information if it was incorrect.

In response to a Daily Mail article, I originally commented that "the able-bodied 17-year-old West African immigrant who tried to claim a pregnant white woman stole his bike had admitted in an interview with a sympathetic news outlet that he was gaming NYC's City Bike system in order to ride the bike for hours for free."

"The teen, who is only being identified as 'Michael,' told Newsone he had already ridden the bike for 45 minutes -- which is the limit for SNAP welfare recipients to ride the bike for free at which point additional fees of $0.17/minute or $0.23/minute for an ebike kick in -- but by redocking the bike and waiting around he could reset the counter and take it out again for free," I said.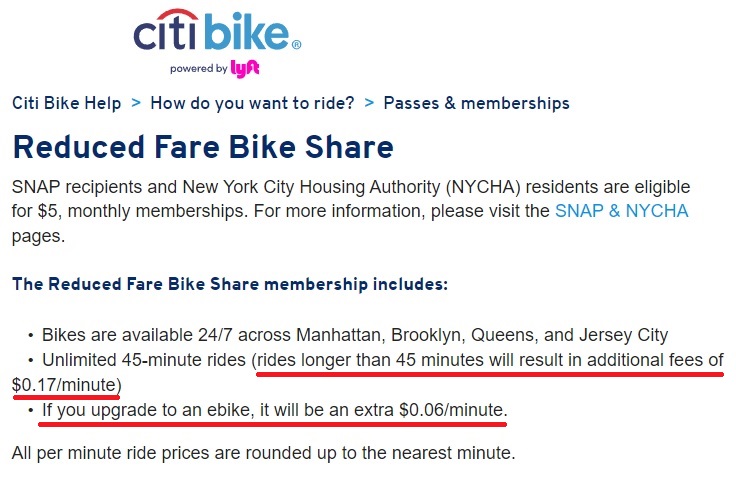 "Those who are not on the dole have to pay $19 for a Day Pass which 'gives you an unlimited number of 30-minute rides over a 24-hour period' or buy a $205/yr annual membership which gives you 'unlimited 45-minute rides for a full year.' Even for those with an annual membership, trips longer than 45 minutes 'incur an extra $0.17 per additional minute,'" I continued.

"Sarah Jane Comrie, the pregnant hospital worker who had just finished a 12-hour shift, tried to take the bike out 'Michael' was (likely illegally) reserving for himself -- asking him by his own account to 'help a pregnant woman out' -- but he decided to give her s**t while leeching off her tax dollars and accuse her of theft."

I do not know whether or not docking the bike and denying other people in need from using it -- in this case a pregnant woman who had just finished a 12 hour shift -- goes against City Bike's rules and do not want to spread inaccurate information if it isn't.

If it's not against their rules then "Michael" was not gaming the system as I claimed. There's already a ton of wrong information surrounding this story and I apologize for potentially adding to it.

Here's the highlights from The Daily Mail's story for everyone to judge for themselves:

"NYC high school senior, 17, who claimed his Citibike was stolen by pregnant hospital worker in viral video says he rode the same bike from the Bronx and was re-docking it briefly to avoid higher fee – so who do YOU think was right?"

By JOE HUTCHISON FOR DAILYMAIL.COM

A high school senior who claimed his Citibike was stolen by a pregnant hospital worker in a now viral video says he rode the same bike from the Bronx and was redocking it briefly to avoid higher fees.

Speaking to Newsone, the teenager known only as Michael, has said that he due to higher fees after using CitiBike for over 45 minutes he had docked his bike to reset the clock moments and was standing by the bike before his exchange with Sarah Comrie, 36.

[…] Comrie's lawyer claims that her receipts prove she had booked the bike at 7:24pm, and that she was physically pushed into the docking station to block her from taking it at 7:25pm.

Michael's receipts don't dispute she had booked the bike. He had pulled up to the hospital docking station at 7:19pm and locked the bike in for five minutes before Comrie appeared.

But he claims the fact he was standing by the bike before intending to book it out again makes him the 'rightful owner' at the time Comrie booked it.

Due to his family receiving benefits, he gets a discount on Citi Bike rides but after 45 minutes the rate on the bikes increases.

In order to avoid the high charge he frequently stops his rides and resets the clock by re-docking the bike.

Speaking to Newsone, Michael said: 'I use the bikes to get to and from school. If I'm traveling anywhere in the city, even if it's from here to Brooklyn, my first option is Citi Bike.

'It's my preferred mode of transport. It's like my car. I can't say that all of this is not affecting me.'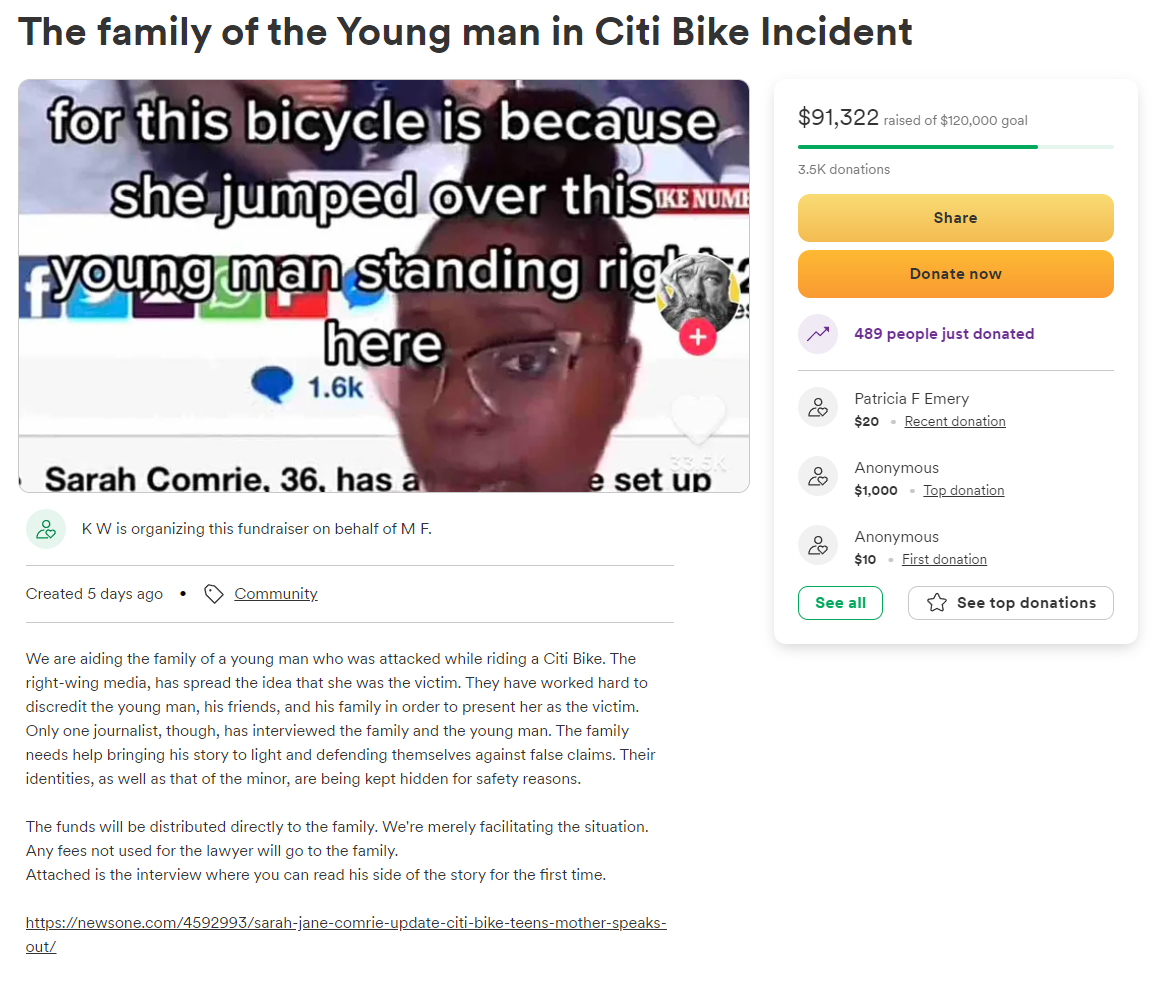 On the day of the incident, May 12th, Michael and four other teenagers rode bikes from the Bronx to Harlem at 5:53pm, then to the Lower East Side of Manhattan.

Receipts shared on Newsone show his travel from his native Bronx to Harlem, and then from Harlem to the Lowest East Side, stopping outside the Bellevue.

Receipts also show that he had pulled up to the hospital at 7:19pm, with Comrie's receipt showing she had started to use the bike at 7:24pm, before docking it a minute later after their dispute.

At 7:25pm Michael then started using the bike, his receipt shows, and finished his trip at 7:31pm when he redocked it again outside the hospital, blocking anyone else from using it.

He insists that they never left the bikes unattended and that four of his friends had been sitting on their bikes as they rested but he was standing next to his.

Sarah Jane Comrie, 36, approached their group and after asking other members of his group asked Michael if she could use the bike, which he declined.

Michael claims Comrie then scanned the QR code on the bike with his phone even as he had his hands on the handlebars, after asking him to 'help a pregnant woman out'.

After the altercation with Comrie, Michael ended up finally checking the bike back out again at 7:59pm and riding away from the hospital.

He then later made his way back towards the Bronx with his friends and finally stopped using the bike at 10:12pm.

Michael claims he's seen a change in attitude towards him since Comrie's lawyer released her version of events.

'At first, I felt supported. It was like I went through this thing, people saw the video of it, and they were supporting me. When those receipts got released, everything flipped.

'People started calling me a 'thief,' a 'thug,' and a 'Black man.'
Follow InformationLiberation on Twitter, Facebook, Gab, Minds and Telegram.