Hispanic "White Supremacist" Mass Shooter Mauricio Garcia Said White People Are "A Race I Don't Like"
Chris Menahan
InformationLiberation
May. 11, 2023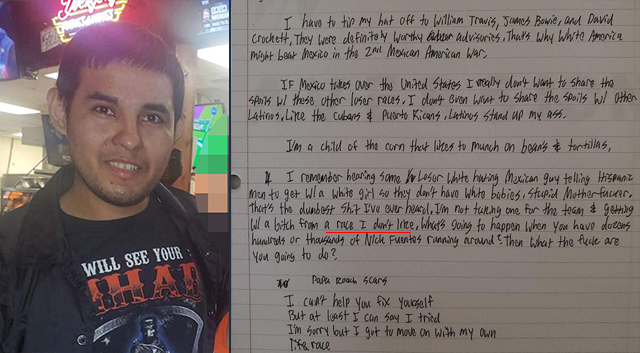 Hispanic Texas mass shooter Mauricio Garcia, whom the media insisted was a "white supremacist," said white people are "a race I don't like" and fantasized about Mexico taking over America in a handwritten post uploaded to his social media profile on OK.RU.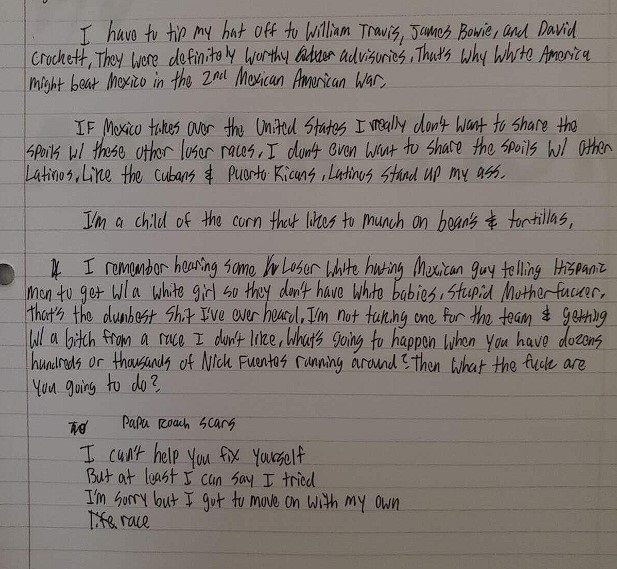 "I have to tip my hat off to William Travis, James Bowie, and David Crockett," Garcia wrote. "They were definitely worthy adversaries. That's why white America might beat Mexico in the 2nd Mexican American war."

"IF Mexico takes over the United States I really don't want to share the spoils w/ these other loser races," he continued. "I don't even want to share the spoils w/ other Latinos, like the Cubans & Puerto Ricans, Latinos stand up my ass."

"I'm a child of the corn that likes to munch on bean's & tortillas," Garcia said.

"I remember hearing some loser white hating Mexican guy telling Hispanic men to get w/ a white girl so they don't have white babies. Stupid motherfucker. That's the dumbest shit I've ever heard. I'm not taking one for the team & getting w/ a bitch from a race I don't like. What's going to happen when you have dozens hundreds or thousands of Nick Fuentes running around? Then what the fuck are you doing to do?"

The media claimed immediately after the shooting in dozens of articles and news reports that Garcia was a "white supremacist" who was radicalized by Nick Fuentes, Tim Pool and Libs of TikTok.


Though the media was eager to paint the Hispanic shooter as a "white supremacist," his posts are actually all over the place, likely due to him being mentally ill.

A US army official told the AP on the condition of anonymity to discuss personnel issues that Garcia was kicked out of the army just three months after joining in 2008 "due to mental health issues."

Texas DPS officials said Tuesday that they have yet to find a motive for Garcia's attack, despite his "neo-Nazi ideation."

"He had patches," [DPS Regional Director Hank Sibley] said. "He had tattoos, even his signature, you know, verified that. That's one thing we do know. We are trying to get into his computer and social media and find out, you know, whether he had any anything that he'd publicized."

"To me, it looks like he targeted the location rather than a specific group of people," Sibley said. "He was very random in the people he killed -- it didn't matter the age, same race or sex. He just shot people, which is horrific in itself."

Follow InformationLiberation on Twitter, Facebook, Gab, Minds and Telegram.