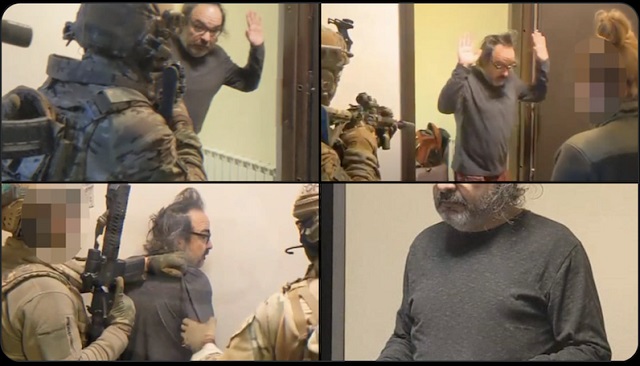 Writer and journalist Gonzalo Lira, a citizen of both the US and Chile, was arrested this week in Kharkov, Ukraine for criticizing the Zelensky regime and is facing up to eight years in prison.


From The Helsinki Times, "Detaining Gonzalo Lira: Another blow to the freedom of press in Ukraine":

The Ukrainian Security Service (SBU) arrested Gonzalo Lira, a US-Chilean national residing in Kharkiv, on suspicions of harbouring pro-Russian sentiments. This marks the second time Lira has been apprehended by the SBU. Lira, an author and filmmaker who relocated to Kharkiv years ago and married a Ukrainian, was initially detained in April 2022 but was released after a week without charges. He was subsequently instructed not to leave the city and prohibited from discussing his arrest.

As reported by Ukrainian media, the SBU's statement accuses Lira of publicly justifying Russia's armed aggression, denying or glorifying supposed Russian war crimes, and undermining Ukraine's top military and political leadership and Defence Forces.

On May 5, the SBU website published a statement in Ukrainian titled "SBU detained a foreign blogger in Kharkiv who denied the crimes of the Russian Federation and insulted Ukrainian defenders." The statement alleges that Lira was among the first to support Russian invaders and glorify their war crimes. It also accuses him of discrediting Ukraine's military-political leadership and Defense Forces. The SBU claims that Lira filmed provocative videos featuring Ukrainian defenders and insulted them.

Lira disseminated his "streams" on his YouTube and Telegram channels, amassing nearly 300,000 subscribers. He also denied Russian missile attacks on Ukrainian cities and the mass murder of civilians by Russian forces. The SBU has notified Lira of suspicion under parts 2 and 3 of Article 436-2 of the Criminal Code of Ukraine (manufacturing and distributing materials containing justification of the armed aggression of the Russian Federation against Ukraine, committed repeatedly).

In March 2022, Ukraine's parliament enacted 14 laws to counter Russian aggression, including two that modify legislation on information activity. These laws prohibit mass media from justifying or legitimising the denial of Russia's armed aggression in Ukraine and the occupation of its territories. They also forbid the glorification of individuals involved in the aggression or administration of occupied areas.

The Ukrainian Criminal Code now contains Article 435-1, which establishes liability for threatening or insulting military personnel and their families, and Article 436-2, which pertains to the justification or denial of Russian military aggression, the occupation of Ukrainian territories, and the glorification of those involved in the aggression or occupation. Penalties for these offences range from arrest for up to 6 months to imprisonment for up to 8 years, depending on the circumstances.

The SBU filmed Lira's arrest, during which heavily armed agents were involved. All participants' faces, except Lira's, were blurred out. A close-up of a smartphone displaying an image of Lira's children as a screensaver was also left un-blurred. Lira is currently detained on suspicion of producing and disseminating materials justifying the Russian Federation's armed aggression against Ukraine. The edited video shows heavily armed special forces knocking on Lira's door and aiming a machine gun at the 55-year-old Lira, who opens the door in his pyjamas. The metal soundtrack from Override Spedup fades down enough to hear the words of a special forces member telling Lira while tapping his arm: "Welcome to Ukraine."

While it is true that Lira has criticised the Zelensky regime and the eight-year-long shelling of Donbas residents by Kyiv, he has not participated in any activities other than exercising his right to free speech as a citizen and respected journalist. Whether or not we agree with Lira's opinions, freedom of speech must not be restricted, especially during times of conflict. These are the values we claim to be defending.
"Transgender" nut job Sarah Ashton-Cirillo (born Michael John Cirillo), who joined the Armed Forces of Ukraine, released a video on Twitter celebrating Lira's arrest:


From The Daily Beast:

American journalist Sarah Ashton-Cirillo, who is currently serving in Ukraine's Armed Forces, said she is slated to be one of the witnesses in the criminal case against Lira. She told The Daily Beast, "This justice has been a long time coming. Obviously, when I was accused by Maria Zakharova and the Russian MFA of being complicit in Gonzalo Lira's disappearance last year, it set off a lynch mob of his supporters accusing me of murder. His arrest this week shows that Ukrainian officials don't bow to popular pressure when a factual investigation leads to the truth."

Ashton-Cirillo added, "I've already given my sworn statement to SBU about Gonzalo Lira several months ago and expect to be called as a witness in his prosecution."
Joe Biden said last week during the White House Correspondents Dinner, "Journalism is not a crime!"


Zero officials from the Biden regime have uttered a single word about Lira being arrested by Zelensky's thugs for his political views.

Follow InformationLiberation on Twitter, Facebook, Gab, Minds and Telegram.