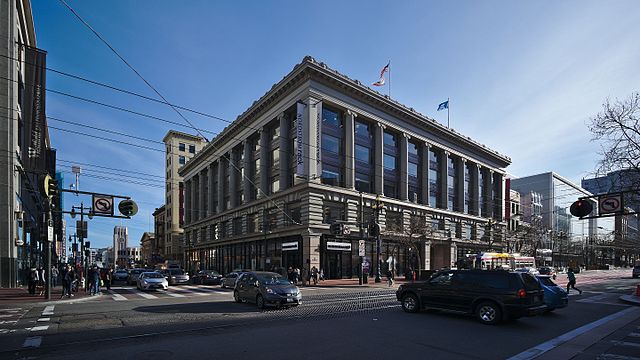 Nordstrom, Whole Foods, Walgreens, Gap, Banana Republic and H&M -- all of whom endorsed the Black Lives Matter movement amid widespread rioting and looting during the Summer of Floyd -- have closed or are closing their stores in San Francisco due to rampant crime and theft brought on by the liberal policies they supported in the name of "fighting racism" and "white supremacy."

Target, who also endorsed BLM amid widespread rioting and looting, hasn't left yet but was forced to put huge sections of its store behind security glass.


From The Daily Mail, "Nordstrom shuts down BOTH stores in crime-ridden San Francisco - as Target locks entire product range behind security glass and Whole Foods store is shuttered":

Nordstrom has announced it is closing all of its San Francisco stores, blaming the 'changed dynamics' of the city which has seen numerous major chains turn-tail in the face of soaring crime.

The retailer told employees it would not be renewing its leases at the Westfield Mall or at the Nordstrom Rack across the street. The mall location will shutter at the end of August, and the Rack store will remain open until July 1, according to the Washington Post.

Nordstrom chief stores officer Jamie Nordstrom blamed the state of San Francisco in recent years for reducing foot traffic 'and our ability to operate successfully.'

Westfield Mall said in a statement to the Washington Post that the move was brought on by the 'deteriorating situation in downtown San Francisco' which has left customers and staff unsafe.
Nordstrom is opening new stores outside of San Francisco in (relatively) safer areas like Oceanside and San Mateo.

Rampant crime in downtown San Francisco has left numerous retailers throwing up their hands and moving out. In April, Whole Foods announced it was closing its locations, while Anthropologie and Office Depot have also left. Remaining stores like Target have been reduced to locking up their entire stock behind glass to deter shoplifters.


'Decisions like this are never easy, and this one has been especially difficult,' wrote Nordstrom in his email.

'But as many of you know, the dynamics of the downtown San Francisco market have changed dramatically over the past several years, impacting customer foot traffic to our stores and our ability to operate successfully.'

Westfield Mall was much more blunt in its statement to the Washington Post, pointing directly to rising crime running business out of town, which it referred to as 'unsafe conditions for customers, retailers, and employees.'

The mall said 'these significant issues are preventing an economic recovery of the area.'

Nordstrom joins the growing list of stores that have abandoned the the coastal city, including H&M, Marshall's, Gap, and Banana Republic, among others.
I don't feel bad for any of these companies -- in fact, I think it's funny.

That said, I do feel bad for the employees and store managers who lost their jobs thanks to their libtard CEOs putting virtue-signaling before common sense.

I hate the idea that the libtard morons who created this nightmare can simply flee to safety rather than be forced to live in the hellholes their policies created.


Every politician and business leader who endorsed this lunacy should be forced to pay their victims reparations.

[Header image of Nordstrom Rack by Dllu via Wikicommons, CC BY-SA 4.0]

Follow InformationLiberation on Twitter, Facebook, Gab, Minds and Telegram.