'Deranged' Man Wanted For 'Hate Crime' in NYC For Defecating on Pride Flag
Chris Menahan
InformationLiberation
May. 01, 2023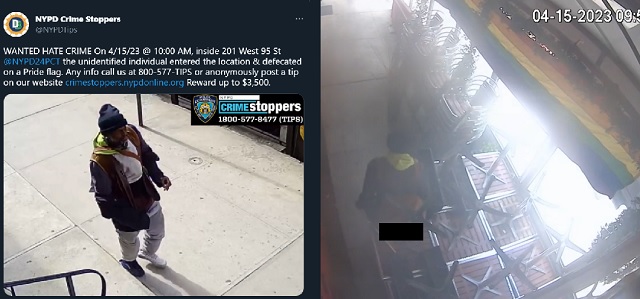 New York City is looking to prosecute what appears to be a mentally disturbed homeless man for a "hate crime" because he defecated on a pride flag laying outside of a pro-LGBT bar and used another to wipe his hind end.


From The New York Post, "Deranged man defecates on pride flag at NYC eatery, hate crime suspected: cops"

A deranged man defecated on a gay pride flag at an Upper West Side tapas bar -- and then apparently carved a smiley face into the pile, according to surveillance footage obtained by The Post.

The stomach-turning incident, which police are investigating as a hate crime, happened at Buceo 95's dining shed at West 95th Street and Amsterdam Avenue around 10 a.m. on April 15, police said.

General Manager Nathan Nolen Edwards, 34, identifies as gay and said the restaurant where he's worked for six years has "a very inclusive, largely LGBTQ+-identifying staff" that includes professional drag queens.

[...] [Owner Courtney Barroll] said the NYPD's Hate Crimes Task Force has been working hard to find the culprit.
This poor hobo could have defecated on an American flag and used it to wipe his rear and Alvin Bragg would not only not charge him with a hate crime but would not charge him at all in the name of fighting "systemic racism" and "white supremacy."

Follow InformationLiberation on Twitter, Facebook, Gab, Minds and Telegram.