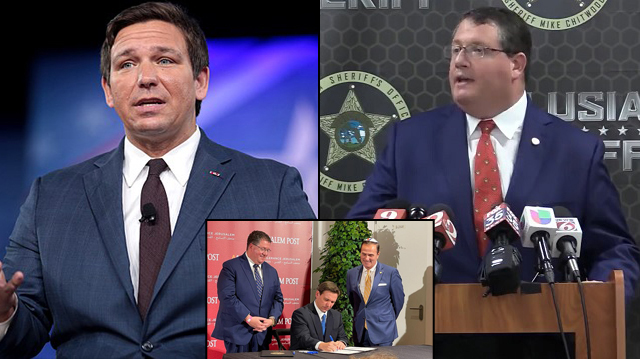 "The Free State of Florida" is on the cusp of having the most oppressive hate crime laws in America in order to "combat anti-Semitism."

HB 269/SB 994, which sponsor Rep. Randy Fine (R) said earlier this year was written to make hate-filled anti-Semitic "littering" (aka leafleting) a felony punishable by five years in prison, has been passed unanimously by the GOP-controlled Florida House and Senate with zero concerns for the First Amendment.


"Nazis, take note," Rep. Fine, who is Jewish, commented on Twitter after the bill passed the Senate. "You're done in Florida."


"There is no First Amendment right to conduct," Jewish Florida State Rep. Randy Fine told the media earlier this year while promoting the bill. "If you graffiti a building, it is a crime now, but if your motivation is hate, it will be a third-degree felony and you will spend five years in prison. If you want to litter, it's a crime right now, but if you litter and your motivation is a hate crime, it will be a third-degree felony and you will spend 5 years in jail."



The bill was put forward by the GOP to silence the "Goyim Defense League" who've been sharing anti-Semitic flyers in Florida neighborhoods and holding up anti-Semitic banners over bridges which are critical of Jews.


Florida Rep. Mike Caruso (R) told reporter Chris Nelson earlier this year that the bill "makes anti-Semitism a hate crime."

"If we do nothing we are going to have 1933's Nazi Germany all over again," Caruso said.



"[Gov. Ron DeSantis]: On Israel's 75th Independence Day, [Rep. Mike Caruso], [Rep. Randy Fine] and I are proud to send you our 2x unanimous HB 269/SB 994," Florida State Rep. Alexis Calatayud (R) said Wednesday on Twitter. "Our policy strengthens the civil [and] criminal consequences for threat, harassment, intent to harm to our ethnic [and] religious communities."


The Jewish Insider reported that Gov. DeSantis, who is set to arrive in Israel on Thursday, may ceremonially sign the bill into law while in Israel, as he did previously with another bill to punish Floridians for boycotting the state of Israel.


"If history is any guide, the Florida governor could use part of his speech at the Museum of Tolerance Jerusalem to promote the bill and perhaps even ceremonially sign it into law -- as he did while spotlighting a similar piece of legislation on his last tour through Israel four years ago," The Jewish Insider reported. [This has now been confirmed, see update below.]

"GOP insiders in Florida suspect that DeSantis, whose plans for the trip remain closely guarded, is weighing a repeat gesture as he heads to Israel on Thursday," The Jewish Insider continued. "'The timing of it would fall right in line with his trip,' Mike Caruso, a Republican state representative who authored the legislation in Florida's House, said in an interview with Jewish Insider on Monday. If the bill passes early this week, as he anticipates, 'it's going to be there for the governor to sign in Israel if he chooses to.'"

"DeSantis has not publicly commented on the bill. But Caruso, the state lawmaker who authored the legislation, said he had discussed it with the governor's office and was confident it would pass. He said he would be 'ecstatic if the governor signed' the bill in Israel later this week," JI said.

"That would really give it some coverage that I think the bill deserves," Caruso told JI. "I hope the governor does. I look forward to it. We shall see."

UPDATE: Florida Gov. Ron DeSantis on Thursday signed Rep. Fine and Rep. Caruso's bill to make Florida's hate crime laws the harshest in all of America while on foreign soil in Israel.




Florida is where free speech goes to die.


RELATED: DeSantis Dined With Miriam Adelson And Top GOP Megadonors in Israel Before Signing Florida Hate Crimes Law

[This post has been updated with the news that Gov. DeSantis signed the bill into law and the ADL celebrated the bill's passage.]

[Left header image of Ron DeSantis by Gage Skidmore, cropped, overlay added, CC BY 2.0]

Follow InformationLiberation on Twitter, Facebook, Gab, Minds and Telegram.