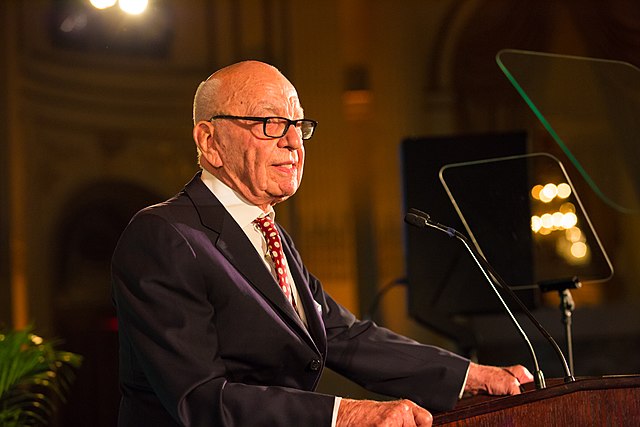 Fox News' decision to fire Tucker Carlson came straight from Rupert Murdoch and was related to the discrimination lawsuit filed by former Tucker Carlson Tonight producer Abby Grossberg against the network alleging a hostile work environment due to rife "sexism" and "antisemitism" behind the scenes, according to the Los Angeles Times.

From Los Angeles Times, "Tucker Carlson departs Fox News, pushed out by Rupert Murdoch":

People familiar with the situation who were not authorized to comment publicly said the decision to fire Carlson came straight from Fox Corp. Chairman Rupert Murdoch.

Carlson's exit is related to the discrimination lawsuit filed by Abby Grossberg, the producer fired by the network last month, the people said. Carlson's senior executive producer Justin Wells has also been terminated, according to people familiar with the matter. A Fox News representative would not comment.

Murdoch is also said to be concerned over Carlson's coverage of the Jan. 6, 2021, insurrection at the U.S. Capitol, in which the host has promoted the conspiracy theory that it was provoked by government agents.

Carlson has called Ray Epps -- a Texas man who participated in the storming of the Capitol but did not enter the building -- an FBI plant, without presenting any evidence.

Epps was interviewed Sunday on "60 Minutes" and said he has been subjected to death threats as a result of Carlson's statements about him. The FBI told "60 Minutes" that Epps has never worked for the agency.

The decision is not related to the $787.5-million settlement Fox News agreed to pay to Dominion Voting Systems last week, according to a representative for Dominion.
The Jewish Daily Forward has more on Grossberg's lawsuit:

A Jewish producer at Fox News filed a lawsuit against the network Monday that claims the network pressured her to provide deceptive testimony in the ongoing legal dispute over its reporting of baseless election fraud allegations. Abby Grossberg, who was recently head of booking for Tucker Carlson's primetime program, paints a picture in the suit of an office culture rife with sexism and antisemitism.

She details in the suit offensive jokes about Jews made by Alexander McCaskill, the show's senior producer, in recent months.

McCaskill displayed "his discriminatory animus" against her last October over Christmas decorations in the booking staff's area in the office. The loud inflatables distracted her, but when she tried to turn them off, McCaskill called her a "Scrooge" and a "Grinch," she claims in the suit, which was filed in district court in New York and Delaware. She said he also hung a sign on a Christmas tree that had been placed near her desk that read, "Hannukah Bush."

Grossberg also said McCaskill invaded her privacy when he asked where her tattoos were, and that Andrew Carmichael, an editorial producer, stated he thought it was forbidden for Jews to have tattoos.
Carlson, Fox News' most-watched political commentator, is a defendant in the lawsuit. The Anti-Defamation League previously called on advertisers to boycott Tucker Carlson Tonight for promoting the antisemitic "replacement theory" -- the conspiracy theory that Jews are orchestrating a replacement of white Americans with nonwhite immigrants.

Last year Carlson released a documentary feature investigating "how one nation stopped George Soros from undermining civilization." Right-wing pundits and antisemites often paint the Jewish billionaire philanthropist, who has supported many progressive candidates, as a bane to society.

McCaskill also repeated antisemitic tropes against another Jewish employee, according to Grossberg's suit. She claims he ridiculed Eldad Yaron, an Israeli-born booking producer, in front of other staffers for taking time off to observe both Rosh Hashanah and Yom Kippur "because they fell on back-to-back weeks."

And Grossberg accuses McCaskill of suggesting, ahead of the Fox News Spotlight Awards, which recognizes employees for outstanding work, that Yaron be nominated for "Inclusion Ambassador of the Year" because he was an "Israeli Jew," and could use the $10,000 prize to buy the team pizza for a year.

McCaskill also made fun of Yaron for buying lunch at a Jewish bakery known as Breads Bakery, telling staffers that he went "to see his people" at the "Jew bakery," according to the lawsuit. In December, Yaron brought a babka to the office to share with the staff ahead of New Year's when McCaskill began to "loudly and obnoxiously" demand that the booking team have "the bread made by the Jews."

Grossberg claims McCaskill "endorsed others in the office to repeat these offensive remarks."
Fox News has denied all of Grossberg's charges.



Anti-Defamation League CEO Jonathan Greenblatt, who organized an advertiser boycott against Tucker Carlson for discussing The Great Replacement, reacted to news of Carlson's firing on Monday with glee.

"It's about time," Greenblatt said on Twitter. "For far too long, Tucker Carlson has used his primetime show to spew antisemitic, racist, xenophobic and anti-LGBTQ hate to millions. @ADL has long called for his firing for this and many other offenses, including spreading the Great Replacement Theory."


UPDATE: The Daily Mail reported Monday that Carlson was "blindsided" by news of his firing, according to their sources.

From The Daily Mail, "Tucker Carlson 'blindsided by Fox News firing that was a direct order from Rupert Murdoch after Jan 6 conspiracy claims and producer's lawsuit alleging bullying, sexism and anti-Semitism' - and his exit erases $500M in value":

Tucker Carlson was blindsided by his firing from Fox News and learned of it on Monday morning shortly before it was announced, sources tell DailyMail.com.

Even some of his closest staff were unaware that his show had been axed, reading about it for the first time on Twitter.

'No one I know was told about it beforehand. We were blindsided,' one senior staffer who works closely with Tucker's show, Tucker Carlson Tonight, told DailyMail.com.

Another insider revealed he still has no idea why he was let go so suddenly, and that many staffers are now questioning whether it's part of a wider plan by the Murdoch family to sell the media behemoth.

'Tucker still hasn't been given any indication of why he was taken off the air. His producer Justin Wells was fired too.

'We believe Rupert wants to sell the company and it's harder to find an institutional buyer with Tucker as the main star.

'Tucker gone makes it more of an appealing media company to buy,' the source said.
"Mr. Carlson, whose contract was renewed in 2021, will be paid out for the rest of his contract, people familiar with the matter said," The Wall Street Journal reports. "Mr. Carlson is paid about $20 million a year, one of the people said. Mr. Carlson found out he was being let go about 10 minutes before the network announced his departure, the people said."

[Header image by the Hudson Institute, CC BY 2.0]

Follow InformationLiberation on Twitter, Facebook, Gab, Minds and Telegram.