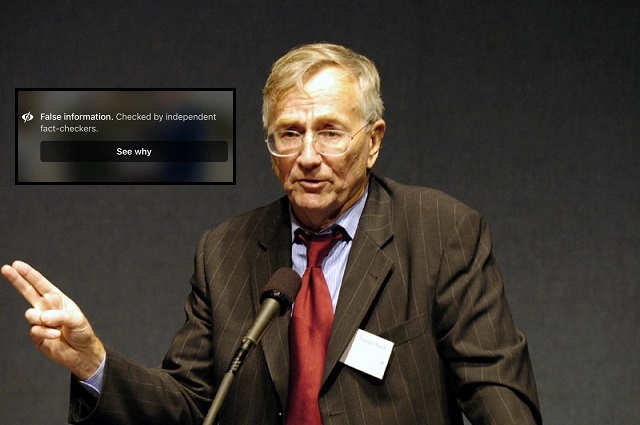 Facebook is censoring famed journalist Seymour Hersh's report alleging the US and Norway worked together to bomb the Nord Stream pipelines as well as his report claiming the Zelensky regime embezzled "at least" $400 million in US aid.

Hersh's post on the Nord Stream bombing was censored after being flagged by a Norwegian fact-checking organization that's partnered with the Norwegian government-owned media company, NRK, Michael Shellenberger reports.

From Michael Shellenberger, "Norway State Media Behind Facebook Censorship Of Seymour Hersh Over Nord Stream Explosion":

Over the last several months, there has been a major debate over who blew up the Nord Stream pipeline, which took natural gas from Russia to Western Europe. Pulitzer-winning journalist Seymour Hersh claims that the U.S. blew it up with the help of the Norway government. Others say Hersch's story is wrong. It has been a fascinating debate.

But instead of allowing people to make up their own minds, Facebook has decided to take a side. It is censoring Hersch's article, as the above video, made around 3:30 pm PT, shows. "We don't think we can make ourselves the arbiter of the truth" said a Facebook executive just a few years ago. And yet that's what they're doing.


Some amount of censorship, or "content moderation," is inevitable. The vast majority of Americans would support many forms of content moderation. But censoring a debate over who blew up a pipeline does not meet the threshold of needing to be censored. And instead of explaining, Facebook sends readers to an article in Norwegian by its Norwegian fact-checker, Faktisk, which is run by a Norwegian journalist.
Hersh's article is still the most compelling story on the pipelines destruction.

The Washington Post reported earlier this month that EU and NATO policymakers are no longer even interested in finding out who carried out the attack.

"At gatherings of European and NATO policymakers, officials have settled into a rhythm, said one senior European diplomat: 'Don't talk about Nord Stream,'" the Post reported. "Leaders see little benefit from digging too deeply and finding an uncomfortable answer, the diplomat said, echoing sentiments of several peers in other countries who said they would rather not have to deal with the possibility that Ukraine or allies were involved."

Hersh's report accusing the Zelensky regime of embezzling $400 million in U.S. aid is also being censored as a result of being flagged by the Ukraine-based, Western-funded media watchdog "StopFakes.org," RT reports.

"StopFake disputed Hersh's allegation because Substack is a self-publishing platform, rather than a so-called legacy outlet," RT noted. "It also referred to statements by US officials, who claimed they had seen no evidence of American aid being diverted in Ukraine. If Hersh's allegations were true, the corruption 'would be known to American auditors, and it would have negatively impacted assistance to Ukraine,' the outlet stated."



According to Hersh's report, a CIA analyst estimated the Zelensky regime had embezzled "at least" $400 million in US aid funds meant to buy diesel fuel for the Ukrainian army and CIA Director William Burns confronted Zelensky directly over the theft in Kiev in January -- and that's the real story behind Zelensky's decision to fire ten high-ranking Ukrainian officials just days later in an "anti-corruption purge."

[Header image by the Institute for Policy Studies, CC BY 2.0, Facebook "false information" fact-check overlay added.]

Follow InformationLiberation on Twitter, Facebook, Gab, Minds and Telegram.