Jack Teixeira, 21-Yr-Old U.S. Air Force National Guardsman, Arrested in Pentagon Docs Leak Case
Chris Menahan
InformationLiberation
Apr. 13, 2023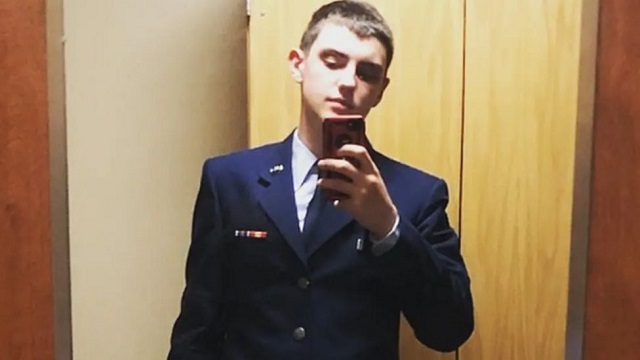 The FBI raided 21-year-old US Air Force National Guardsman and epic gamer Jack Teixeira on Thursday after identifying him as the lead suspect in the leak of various classified documents from the Pentagon.

Among other revelations, the leaked documents revealed the US government lied to the public about not having boots on the ground in Ukraine.




From BBC News, "Jack Teixeira: Suspect in Pentagon documents leak arrested":

A 21-year-old US Air Force National Guard employee has been arrested over the leak of highly sensitive US defence and intelligence documents.

Jack Teixeira is reported to be the leader of an online gaming chat group where the files leaked in recent months.

The New York Times said he is a member of the intelligence wing of the Massachusetts Air National Guard.

Aerial footage showed officers making an arrest at Mr Teixeira's family home.

The footage shows a young man, believed to be Mr Teixeira, walking backwards towards armed FBI officers with his hands raised, before he is handcuffed and led to a car.

At least 50 but perhaps more than 100 classified documents were posted on Discord - a social media platform popular with gamers.

The documents contain a range of intelligence assessments about the war in Ukraine, but also sensitive intelligence about countries around the world, including US allies.

The New York Times earlier used interviews and social media clues to identify Mr Teixeira before the confirmation of his arrest.

A Department of Defence spokesman has said the Pentagon is continuing to work to "understand the scope, scale and impact of these leaks."

On Wednesday, the Washington Post published an interview with one of the members of the chat room where the documents initially appeared.

He described the leaker as a young, charismatic gun enthusiast in his early to mid-20s who works at an unnamed military base.

The Post reported that the man was the leader of a Discord chat room including roughly two dozen members who swapped "memes, offensive jokes and idle chitchat" and prayed and watched movies together.
The New York Times allegedly showed up at Teixeira's house before the FBI raided him.


"On Thursday afternoon, about a half-dozen F.B.I. agents pushed into a residence in North Dighton, Mass." The Times reported. "Attorney General Merrick Garland later said in a short statement that Airman Teixeira had been arrested 'without incident.'"

If Teixeira is guilty, he deserves to be shown the same leniency as Reality Winner.

Follow InformationLiberation on Twitter, Facebook, Gab, Minds and Telegram.