Army Sgt Daniel Perry was found guilty of murder on Friday after being indicted by Soros-funded Travis County District Attorney Jose Garza for fatally shooting AK-47-toting Black Lives Matter "protester" Garrett Foster during the George Floyd riots of 2020.

WATCH:



According to a KVUE legal analyst, despite most experts believing Perry would be found not guilty, he seemed to have been found guilty because he made some posts on social media talking about defending one's self against BLM rioters.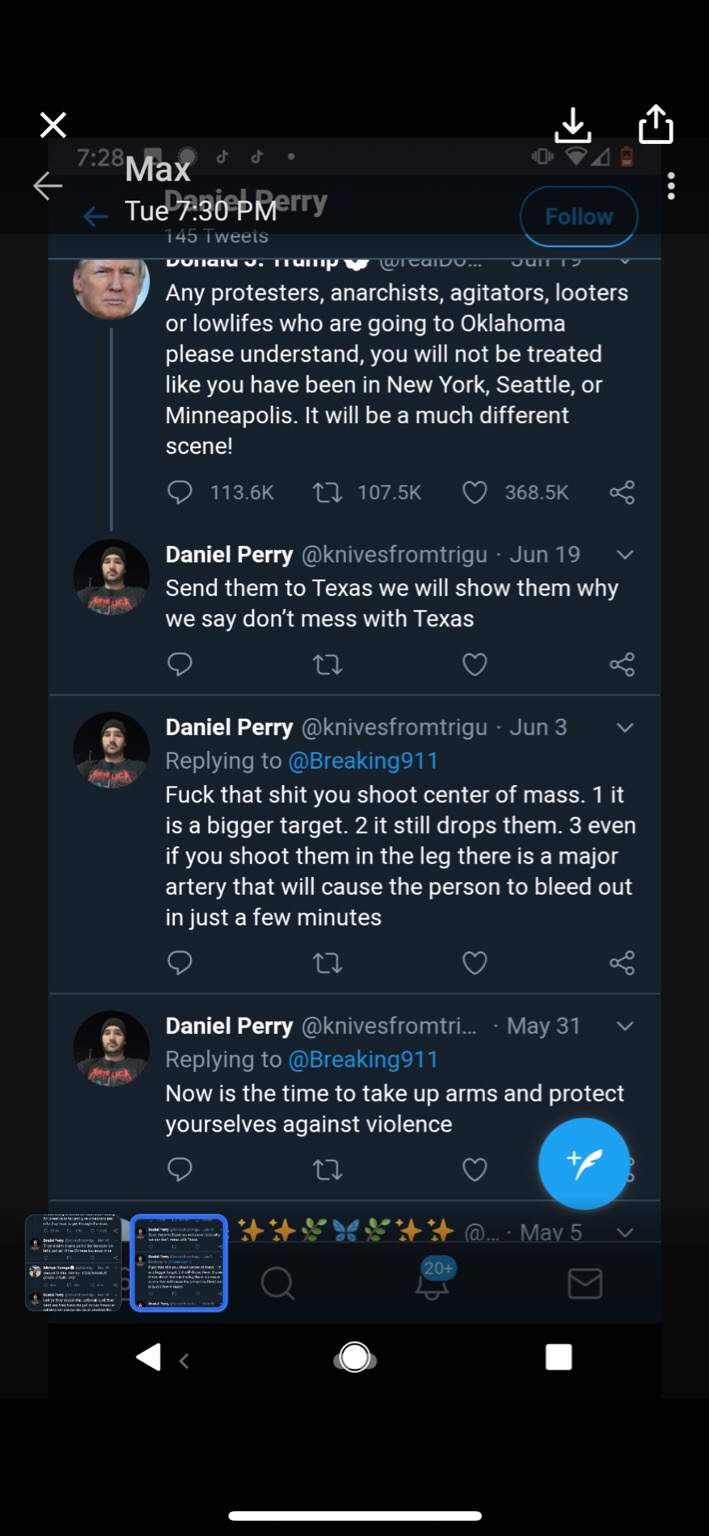 Perry reportedly told a friend in June 2020, "I might have to kill a few people on my way to work, they are rioting outside my apartment complex."

"I might go to Dallas to shoot looters," he said in another text.

As a reminder, those posts were made as insanely violent riots were taking place in the streets of Dallas.

(WARNING: GRAPHIC)


The state's witnesses also reportedly told stories about Perry's "demeanor" and the "energy of the protesters" which weighed against him (no word on whether they did a sιance to contact Foster himself).

From KVUE, "Travis County jury finds Daniel Perry guilty of murder":

AUSTIN, Texas — The nearly week-long trial for a U.S. Army sergeant accused of killing a demonstrator at a social justice protest in Downtown Austin nearly three years ago has come to an end.

After hearing testimony from dozens of witnesses, the Travis County jury heard closing statements from both the defense and prosecution on Thursday in the case of Daniel Perry, who shot and killed Garrett Foster in July 2020. Following 17 hours of deliberation, the jury found Perry guilty of murder in connection with Foster's death.

[...] After the verdict was read, Foster's partner Whitney Mitchell and several of Foster's friends broke down in tears. Daniel Perry also lost his composure shortly thereafter.

Perry was immediately handcuffed and taken into custody by deputies.

The jury found Perry not guilty of aggravated assault, the other charge he faced.

[...] Perry claims Foster raised a weapon, prompting Perry to shoot him. Perry called 911, but Foster did not survive.

Perry said he acted in self defense and turned himself into authorities after the shooting. Since then, he has been out on bond.

In July 2021, after reviewing evidence, a grand jury indicted Perry with murder, deadly conduct and aggravated assault.

During the trial, multiple witnesses came forth to discuss the demeanor Perry held during the encounter with Foster and following the shooting, as well as the energy of the protesters and how Foster was holding his gun. Among those who testified were fellow protesters, a citizen journalist, crime scene specialists, a firearms examiner and the medical examiner who performed Foster's autopsy, among others.

The jury was also shown videos and photos, and the State shared social media posts to back-up their claim that Perry had threatened protestors in the past.
Self-defense is being outlawed by Soros-funded prosecutors throughout the country.

Perry's posts are irrelevant when you look at the facts of the case: Perry had his car surrounded by armed protesters who threatened his life.






The lead detective on the case said Soros-funded DA Jose Garza ordered him "on more than one occasion" to "remove exculpatory information that I had intended to present to the grand jury during my testimony."


Republican Congressman Ronny Jackson of Texas called on Governor Abbott to pardon Perry immediately.

"A Soros funded DA just put an INNOCENT MAN in jail in Austin. Daniel Perry had a MOB of BLM THUGS surround his vehicle and point firearms in his face. He had a RIGHT to defend himself. Daniel Perry did NOTHING WRONG!!" Perry said Friday night on Twitter.



"Governor Abbott, don't let a Soros-owned Austin liberal DA destroy our justice system in Texas. You need to PARDON Daniel Perry IMMEDIATELY!" Jackson said in a follow-up tweet.


"The lead detective in the Daniel Perry case was ordered by the CORRUPT SOROS OWNED DA to REMOVE evidence that would prove his innocence," Jackson said. "This is unconscionable. This injustice needs to be FIXED NOW!!"


Texas Attorney General Ken Paxton also came to Perry's defense.


"Self-defense is a God-given right, not a crime. Unfortunately, the Soros-backed DA in Travis County cares more about the radical agenda of dangerous Antifa and BLM mobs than justice," Paxton told Fox News Digital on Saturday.

"This week has shown us how rogue prosecutors have weaponized the judicial system," Paxton said. "They must be stopped!"

UPDATE: Texas Gov. Greg Abbott Announces He's Seeking Pardon For Army Sgt Daniel Perry


[Post updated with additional information]

Follow InformationLiberation on Twitter, Facebook, Gab, Minds and Telegram.