Fmr WH Press Sec Jen Psaki: Republicans Are 'Weaponizing' Trump's Indictment Against Democrats
Chris Menahan
InformationLiberation
Apr. 03, 2023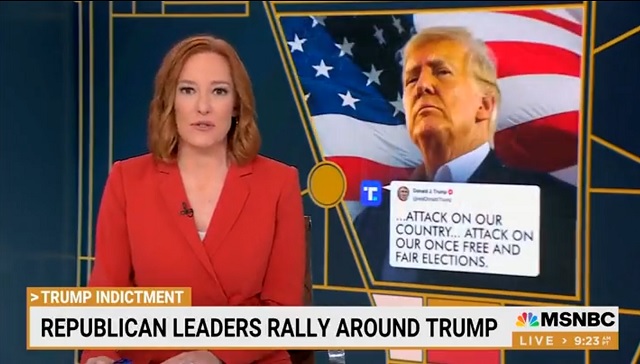 Former White House Press Secretary Jen Psaki, who now has her own show on MSNBC where she recites White House talking points as news, said Sunday that Republicans are "weaponizing" Donald Trump's indictment against Democrats.

In a clip highlighted by Grabien's Tom Elliott on Sunday, Psaki told Democrats to "put your head down" and stay out of commenting on Trump's indictment (to avoid politicizing jailing their opposition).

"To me, the only people who are weaponizing and politicizing what shouldn't be a political process at all are ... leading Republicans [like Ron DeSantis and Speaker Kevin McCarthy]," Psaki said.


"If you feel you have to say something, stick with the frame that has been in the statements of a number of Democratic leaders," Psaki said. "One, no one is above the law, that's how our country works. Two, Trump will be able to avail himself of the legal system. Three, there should be no intimidation and any protest should be peaceful."

"That is how the judicial system is supposed to work. It is vital to a thriving democracy," Psaki added.

What you don't want to say is Trump is innocent until proven guilty.

As former House Speaker Nancy Pelosi said last week, Trump is only being given a trial "to prove [his] innocence."


Follow InformationLiberation on Twitter, Facebook, Gab, Minds and Telegram.