WATCH: Woke Prof Says Scientists Can't Differentiate Between Male And Female Skeletons, Crowd Bursts Into Laughter
Chris Menahan
InformationLiberation
Apr. 02, 2023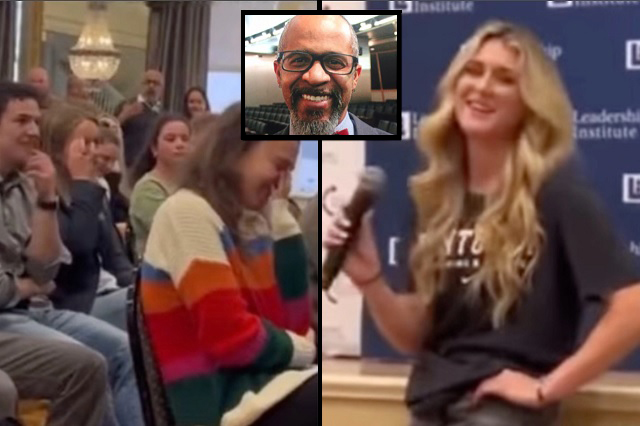 A crowd at the University of Pittsburgh was filmed bursting into laughter after a "woke" professor claimed that scientists can't differentiate between male and female skeletons.



From NY Post, "'Woke' University of Pittsburgh professor denies difference in male, female skeletons":

A "woke" anthropology professor denied there's a difference in male and female bone structure during a discussion about gender, sparking disbelief and outrage.

"If you were to dig up a human — two humans — a hundred years from now, both a man and a woman, could you tell the difference strictly off of bones?" Riley Gaines is shown in footage asking during the lecture.

"No," professor Gabby Yearwood replies, according to footage posted on Twitter.

The response sparked appalled laughter from students, including Gaines, who describes herself on Twitter as a former University of Kentucky swimmer who believes there are "only two sexes."

Yearwood then insists that he's the "expert in the room," according to FOX News.

"Have any of you been to anthropological sites? Have any of you studied biological anthropology? I'm just saying, I've got over 150 years of data, I'm just curious as to why I'm being laughed at," he said before later declaring, "I have a PhD!"
According to Pitt's website, Yearwood "is a Senior Lecturer in the Department of Anthropology and Managing Faculty Director for the Center for Civil Rights and Racial Justice in the Law School at the University Pittsburgh."

"He is a socio-cultural anthropologist earning his Ph.D from the University of Texas at Austin in Anthropology focusing in Black Diaspora Studies and Masculinity," his bio says, which as Steve Sailer notes, suggests he does not have a PhD.

"His research interests include the social constructions of race and racism, masculinity, gender, sex, Black Feminist and Black Queer theory, anthropology of sport and Black Diaspora. Dr. Yearwood holds a secondary appointment with the Gender, Sexuality and Women's Studies Program at Pitt. Dr. Yearwood is also a teaching member of the Pitt Prison Education Project."

Yearwood should consider going into comedy.

Follow InformationLiberation on Twitter, Facebook, Gab, Minds and Telegram.