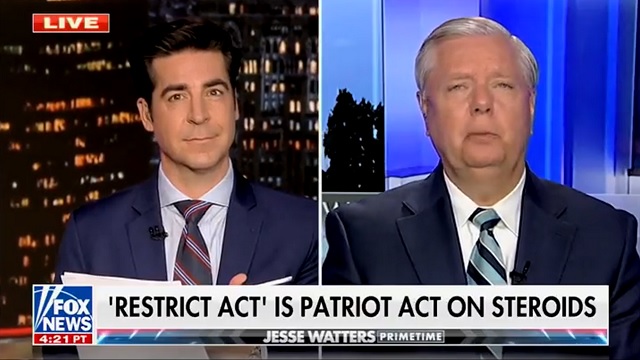 South Carolina Senator Lindsey Graham told Fox News' Jesse Waters on Wednesday he does not support the anti-Free Speech "RESTRICT Act" -- despite his being listed as a co-sponsor of the bill -- only to have his handlers come out later that night and say he actually does support the bill and will be happy to defend it.

WATCH:



From The Daily Caller News Foundation, "'Garbage': Jesse Watters Asks Sen. Lindsey Graham If He Actually 'Read' A Key Bill He Co-Sponsored":

Fox News host Jesse Watters grilled Republican Sen. Lindsey Graham of South Carolina about his co-sponsorship of the RESTRICT Act Wednesday, asking if the senator read the bill he co-sponsored.

"Did the United States Senate just say we are going to protect you from China by spying on you? Let's try to get some answers out of Sen. Lindsey Graham who supports this and is here now," Watters said just prior to Graham appearing on the show. "You have got to be kidding me, Senator. Did you read this?"

The White House announced it would support the Restricting the Emergence of Security Threats that Risk Information and Communications Technology (RESTRICT) Act, which targets technology from Cuba, Iran, North Korea, Russia, China and Venezuela on March 7, NBC News reported. The legislation does not explicitly name TikTok, but senators supporting the legislation have cited the national-security concerns surrounding the Chinese-owned app.

"I don't think I support the RESTRICT Act," Graham told Watters.

"You don't support this?" Watters asked, "Because you were named as one of the supporters, 'cause this is garbage."

Graham co-sponsored the RESTRICT Act, S 686, on Monday, according to congress.gov, joining 20 other senators. Many conservatives criticized the legislation over the potential to be used against American citizens.

"Here's the problem as I see it. China is the parent company of TikTok and my nieces like TikTok," Graham said. "I don't mind them using TikTok. I just don't want the Chinese government to seize all their data and manipulate the information America sees for political purposes. China is helping drug cartels in Mexico. China is not a friend."

"On Congress.gov you are listed as one of the co-sponsors," Watters said. "Maybe it's like Fetterman when your chief of staff does all your work for you."

Democratic Sen. John Fetterman of Pennsylvania was admitted to Walter Reed National Military Medical Center Feb. 15 to undergo inpatient treatment for depression. A top Fetterman aide told the New York Times that Fetterman's continued campaigning for the Senate seat after a March 2022 stroke may have caused permanent damage, contradicting a letter released by Fetterman's campaign last year.

"You have got to go back and talk to the other senators about this," Watters told Graham. "This thing is nuts. And it's going to get abused like it always does. We have got clean this up. Can we clean this up?"

"Well, yeah. I mean, number one, I owe you a better explanation than I'm giving you," Graham said. "John Thune has got a bill to make sure the secretary of Commerce can deal with this, not just TikTok, but the general idea that China – we're under attack by China. Now, that's a fact. Chinese Communist Party is stealing American data. Espionage against American businesses is all-time high according to FBI. So, yeah. I'm definitely going to push back against China to be able to steal your data but I want to do it in a constitutionally sound manner."

Graham also admitted that the co-sponsorship of the legislation without reading it "makes me look bad," and promised to appear on the show if the legislation really included the provisions Watters criticized.

"Admittedly, it wasn't Senator Graham's best interview tonight. It happens. However, I expect Sen. Graham will speak to his support for the Restrict Act and concerns about the Chinese communist party's control of Tik[T]ok tomorrow," a spokesman for Graham told the Daily Caller News Foundation. "Finally, he said he would be happy to go back on Jesse to discuss the issue further and we look forward to doing that soon."
Who exactly is pulling Lindsey Graham's strings?

It's clear as day he's nothing more than a puppet.

Follow InformationLiberation on Twitter, Facebook, Gab, Minds and Telegram.