Police Release Video of Transgender Mass Shooter Blasting Way Into Christian School, Hunting For Victims
Chris Menahan
InformationLiberation
Mar. 27, 2023


Nashville Police on Monday night released surveillance footage of 28-year-old transgender mass shooter Audrey "Aiden" Hale blasting her way into the Covenant Church school in Nashville and hunting for victims.


Hale is seen pulling up in a Honda Fit hatchback and then shooting her way into the school with an AR-style rifle. She's seen hunting for victims with her gun at the ready before the footage cuts off.


Despite being a woman, Hale used "he/him" pronouns and attempted to "transition" into a man.



According to police, Hale killed three children and three adults and had "a manifesto ... and a map of how all of this was going to play out."

"The deceased are identified as Evelyn Dieckhaus, William Kinney, and Hallie Scruggs, all age nine, Mike Hill, age 61, Cynthia Peak, age 61, and Katherine Koonce, ago 60," police reported.


"The first call to 911 about shots being fired in the building came in at 10:13 a.m." Nashville police said. "Officers rushed to the campus, made entry and began clearing the building. Shots were heard coming from the second level. It was on the second floor, in a common area, that a team of officers encountered Hale shooting (she had been firing through a window at arriving police cars). Two members of an officer team fired on Hale and fatally wounded her. Those two officers are Officer Rex Englebert [pictured left], a four-year MNPD veteran, and Officer Michael Collazo [pictured right], a nine-year MNPD veteran."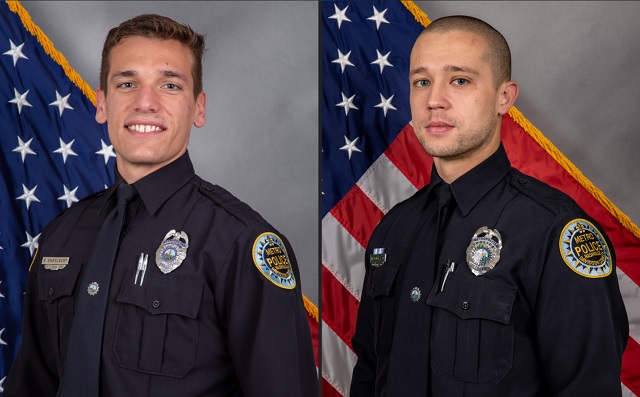 Leftists responded to the shooting by mocking the victims for not "praying enough" and blaming Tennessee Republicans for oppressing trans people by trying to ban child sex changes and cross-sex hormones/puberty blockers for minors.

Follow InformationLiberation on Twitter, Facebook, Gab, Minds and Telegram.