U.S. Army Pulls 'Be All You Can Be' Ads After Lead Actor Arrested in Domestic Dispute for Strangulation, Assault and Harassment
Chris Menahan
InformationLiberation
Mar. 27, 2023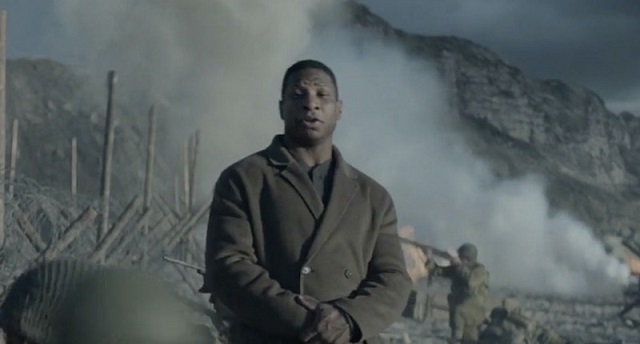 The US Army halted their new multi-million dollar "Be All You Can Be" advertising campaign on Sunday after the lead actor, Jonathan Majors, was arrested over a domestic dispute for strangulation, assault and harassment.

From Army Times, "Army pulls 'Be All You Can Be' ads after on-screen narrator arrested":

Jonathan Majors, who stars as the on-screen narrator in the first wave of "Be All You Can Be" advertisements, faces charges of assault, strangulation and harassment, a New York Police Department official told Army Times.

The police official said officers responded to a 911 call shortly after 11:00 a.m. at an apartment in the city's Chelsea neighborhood, where they found Majors and a 30-year-old woman with injuries to her head and neck. Officers did a "preliminary investigation" and arrested the actor.

The case involved a "domestic dispute," police said. First responders took the woman to a local hospital.

"We are quickly gathering and presenting evidence to the District Attorney with the expectation that all charges will be dropped imminently," Major's criminal defense lawyer, Priya Chaudhry, wrote in a statement to Army Times.

According to Chaudhry's statement, the evidence includes video footage and witness testimony.

"The U.S. Army is aware of the arrest of Jonathan Majors and we are deeply concerned by the allegations surrounding his arrest," said Laura DeFrancisco, spokesperson for the Army Enterprise Marketing Office. The Chicago-based enterprise office oversees a multi-billion dollar contract with advertising conglomerate DDB to oversee and execute the service's marketing efforts.
As I reported earlier this month, the Army's ad, which was clearly designed to appeal to the "deplorables" the Army spent years alienating with "woke" propaganda and vaccine mandates, was widely mocked on YouTube with commenters asking, "Why would I want to fight for people who hate me?"

The video is now set to "private" but I preserved a snapshot of the top comments.

Follow InformationLiberation on Twitter, Facebook, Gab, Minds and Telegram.