WSJ: Ukraine Drafted Man With No Hands Amid Struggle to Replenish Troops
Chris Menahan
InformationLiberation
Mar. 24, 2023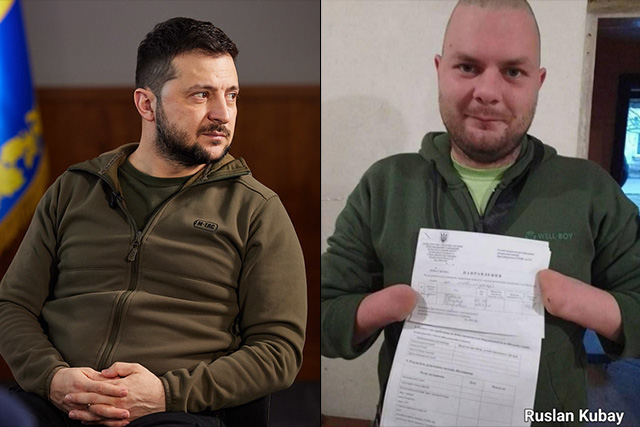 The Zelensky regime drafted a man with no hands to serve as cannon fodder in their NATO-backed war with Russia.

From The Wall Street Journal, "A Year Into War, Ukraine Faces Challenges Mobilizing Troops":

Ukraine had a standing army of 260,000 when Russia invaded, and around 100,000 have been killed or wounded since then, according to Western estimates. [...]

Ruslan Bortnik, head of the Ukrainian Institute of Politics, a think tank in Kyiv, said recent changes have discouraged many men from fighting. Last month, the military slashed bonuses for non-front-line personnel, calling it a cost-saving measure. A new law signed by Mr. Zelensky in January introduced harsher punishment for desertion and disobedience.

There have been public scandals involving inappropriate call-ups and videos appearing to show men being roughed up by enlistment officers for refusing a summons. A disabled person was drafted in western Ukraine and pronounced fit for service despite having no hands. Another died on the front lines within a month of mobilization after 10 days of training, according to his relatives.

Officials last week denied that untrained mobilized troops were being sent to battle unprepared, though they said the length of military training has been squeezed into a shorter period due to the war. "Kremlin propaganda continues to spread fakes and myths," Deputy Defense Minister Hanna Malyar said in a Telegram post. Several soldiers interviewed by The Wall Street Journal near Bakhmut last week said they had been sent to battle within days of being called up. Others say they have received several weeks of training.
The Economist reported more on the handless man last month:

Ruslan Kubay was surprised to receive a draft notice in late January. Registered as seriously disabled since childhood -- Mr Kubay is missing both hands -- he falls under a list of automatic exemptions from service. Even more surprising, however, was the reaction of officials at the local registration office in Drohobych, near Lviv. Far from admitting their error, they doubled down and declared him fit for service. Only a social-media post and a subsequent national scandal reversed the decision.

Mr Kubay's case was an extreme, but far from isolated, incident.
This is how you know Ukraine is winning the war!

Follow InformationLiberation on Twitter, Facebook, Gab, Minds and Telegram.