Proud Boys Sedition Trial Suspended AGAIN After Feds Admit Defense Witness Was An FBI Informant
Chris Menahan
InformationLiberation
Mar. 23, 2023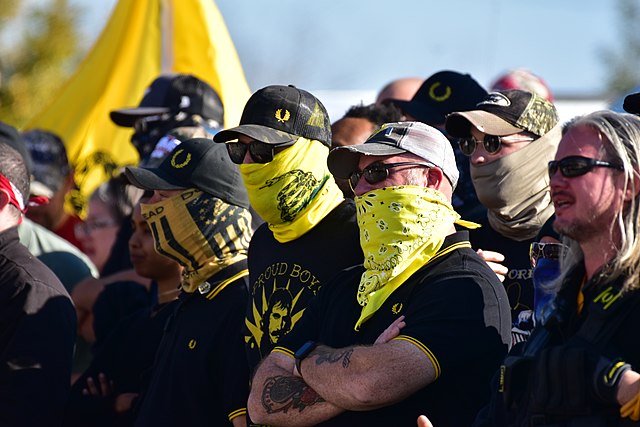 The Proud Boys sedition trial was suspended for a second time on Wednesday after the feds admitted in court that a witness intimately involved in the Proud Boys' defense team was secretly an FBI informant.





From The Epoch Times, "Did FBI Informant Spy on Proud Boys Defendants and Their Jan. 6 Trial Attorneys?":

Defense attorneys in the Proud Boys seditious-conspiracy trial in Washington D.C. learned late March 22 that one of their own defense witnesses who was about to testify had worked as an FBI informant for at least 22 months.

They asked for an emergency hearing before U.S. District Judge Timothy Kelly and filed a motion to compel the U.S. Department of Justice to disclose if the witness has been spying on the defense team.

Judge Kelly suspended the trial until March 24 and converted March 23 from a day of testimony into a motions hearing.

Zachary Rehl, one of five Proud Boys defendants, filed a motion on behalf of his co-defendants seeking a court order to compel prosecutors to disclose any recordings or reports made by confidential human sources (CHS)—informants—about the defendants and their attorneys.

Defense attorney Carmen Hernandez said the information given to the defense team on March 22 raises "serious and substantiated allegations of governmental misconduct surrounding the surreptitious invasion and interference of the defense team by the government through a confidential human source, at the government's behest."

Judge Kelly ordered prosecutors to file a response to the motion by 1 p.m. EDT on March 23. A hearing on the matter will begin at 3 p.m.

The trial began Dec. 19, 2022, in U.S. District Court. Prosecutors wrapped up their case on March 17.

Defense Witness was Prosecution Informant

After the close of testimony on March 22, prosecutors disclosed that a witness on the defense list who was due in court on March 23 had worked as an FBI informant from April 2021 through to at least January 2023.

"During this period of time, the CHS [informant] has been in contact via telephone, text messaging, and other electronic means, with one or more of the counsel for the defense and at least one defendant," the motion said.

"The CHS also participated in prayer meetings with members of one or more of the defendants' families. The CHS also engaged in discussions with one of the defendant's family members about replacing one of the defense counsel."
Judge Kelly should have thrown the case out rather than suspend it.

The evidence is now overwhelming that the feds are hiding exculpatory evidence from the defense and denying the Proud Boys their right to a fair trial.

[Header image by Anthony Crider, CC BY 2.0]

Follow InformationLiberation on Twitter, Facebook, Gab, Minds and Telegram.