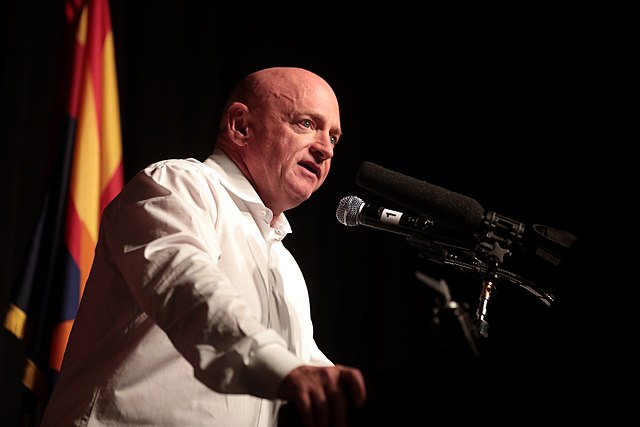 Senator Mark Kelly (D-AZ) reportedly asked the feds during a Zoom meeting on Sunday night if "there was a program in place" to censor information on social media that could lead to a run on the banks.


From Michael Shellenberger, "EXCLUSIVE: Senator Mark Kelly Called For Social Media Censorship To Prevent Bank Runs":

During a conference call about the Silicon Valley Bank bailout yesterday, Senator Mark Kelly (D-AZ) asked representatives from the Federal Reserve, Treasury Department, and the Federal Deposit and Insurance Corporation (FDIC) if they had a way to censor information on social media to prevent a run on the banks, according to Republican members of the House of Representatives who were on the call.

The members said there were roughly 200 people on the Zoom call, including Senators, House members, and staff members from both parties. "On our conference call, led by [Senate President Chuck] Schumer, with Fed, FDIC, and Treasury, a democrat senator asked the three agencies if there was a program underway on social media to censor information that would lead to a bank run," Rep. Thomas Massie told Public.

"I believe he couched it in a concern that foreign actors would be doing this," said Massie, "but he didn't suggest the censorship should be limited to foreigners or to things that were untrue. The people from the three agencies couldn't answer him and just sort of took a pass on the question."

Calls both to Sen. Mark Kelly's Arizona and Washington D.C. offices were not answered.

Rep. Lauren Boebert tweeted, "On a briefing with Biden Under Secretary of the Treasury Nellie Liang regarding the SVB [Silicon Valley Bank] BAILOUT they are working towards and a member asked if they were reaching out to Facebook and Twitter to monitor misinformation and 'bad actors.'"

Rep. Dan Bishop, Chairman of the Subcommittee on Oversight, Investigations, and Accountability, confirmed the accounts of Massie and Boebert, and a representative for Boebert's office confirmed that the "member" she was referring to was a Democratic Senator.

"I have confirmed with [House Speaker Kevin] McCarthy that it was Sen. Mark Kelly who asked on last night's zoom call whether the call hosts (at Treasury, FDIC, etc) were interacting with SM platforms and on the lookout for foreign influence that might promote bank runs," Rep. Bishop told Public.
Massie also said on Twitter that the feds bailout amounts to looting the insurance premiums of those under $250,000 in the here and now to hopefully prevent a banking system collapse.

"Understand what's happening at FDIC: They're taking the insurance premiums that were paid in to protect depositors under $250,000 (little guys) and using it to cover deposits of the very rich," Massie said. "They argue it benefits everyone to go 'all in' on the first few banks."


[Header image by Gage Skidmore, CC BY-SA 2.0]

Follow InformationLiberation on Twitter, Facebook, Gab, Minds and Telegram.