FBI Says Leaked Memo Showing They're Monitoring 'Radical Traditionalist Catholics' Was Not Up to Their 'Exacting Standards'
Chris Menahan
InformationLiberation
Feb. 09, 2023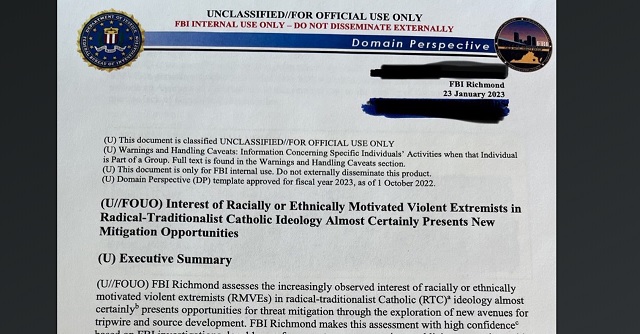 A leaked FBI memo showing the agency was monitoring "Radical Traditionalist Catholics" due to their political and religious views was not up to the FBI's "exacting standards," the agency announced on Thursday.

From LifeSiteNews, "BREAKING: FBI retracts memo on 'Radical' Latin Mass Catholics that cited left-wing SPLC report":

Following intense backlash, the FBI has now released a statement saying it is not only retracting, but also investigating why an anti-Catholic memo that relied on a report published by the Southern Poverty Law Center (SPLC) to justify its surveillance of Latin Mass communities was issued by its Richmond, Virginia office last month.

"While our standard practice is not to comment on specific intelligence products, this particular field office product — disseminated only within the FBI — regarding racially or ethnically motivated violent extremism does not meet the exacting standards of the FBI," the statement reads.

Reporter Tyler O'Neil of The Daily Signal posted the remarks on his Twitter account. He'd just sent an email to the FBI inquiring about the explosive eight-page document, which was leaked to the public by former staffer turned whistleblower Kyle Seraphin on Wednesday.


[...] In its statement, the FBI claims that "upon learning of the document, FBI Headquarters quickly began taking action to remove the document from FBI systems and conduct a review of the basis for the document."

The original document, intended for internal use only, was anonymously published on January 23. Seraphin released it on UncoveredDC.com this week on February 8.

The statement continues: "The FBI is committed to sound analytic tradecraft and to investigate and prevent acts of violence and other crimes while upholding the constitutional rights of all Americans and will never conduct investigative activities or open an investigation based solely on First Amendment protected activity."
You can read the full (redacted) memo below:



The line about conducting "outreach" and developing "sources" within traditionalist Catholic parishes strongly suggests they're sending informants/undercover FBI agents into Catholic churches to spy on worshippers they view as potential threats.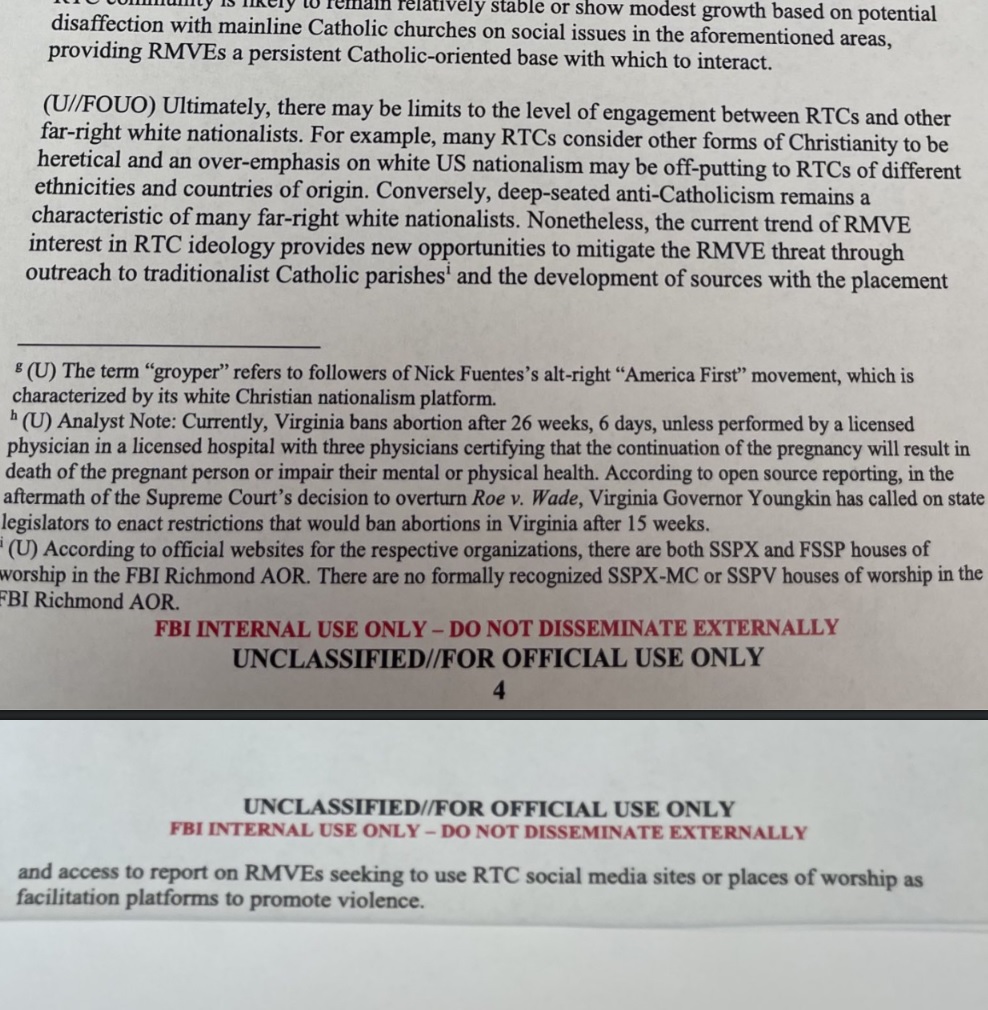 It's interesting that the FBI is running from this memo as hounding their political enemies has become standard fare for the agency.

I noted on Tuesday how Biden did a hard pivot during his State of the Union address away from denigrating "MAGA extremists" to putting forward his own MAGA-lite agenda and appealing to "unity." Perhaps the regime realized that labeling half the country domestic terrorists is only further radicalizing people and will likely boost Trump's odds in 2024. Now, they're trying to appear moderate (while they throw thousands of J6 protesters in prison and viciously persecute Christians for their political and religious beliefs).

It's also possible the FBI fears what Republicans will find in their upcoming "Church committee" hearings.

We know from previous leaks to the GOP controlled House Judiciary Committee that the FBI was "pressuring" agents to reclassify cases as "domestic violent extremism" -- regardless of the facts of the case -- in order to bolster the Biden regime's narrative that white extremists are the "greatest threat" our country faces.

Using the FBI as a tool of political and religious suppression is unquestionably a criminal act but if FBI Director Chris Wray makes it clear to the GOP that he'll operate in a "bipartisan" fashion going forward and will only go after enemies of the uniparty I suspect they'll back down and let his crimes go unpunished.

Follow InformationLiberation on Twitter, Facebook, Gab, Minds and Telegram.