New York City Ends Vax Mandate For City Employees, Claims Only 4% of Workers Held Out to The Bitter End
Chris Menahan
InformationLiberation
Feb. 09, 2023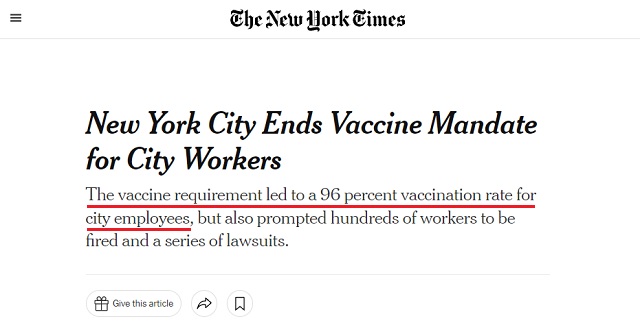 Only 4% of New York City employees had the iron will to refuse to take the vax.

From The New York Times:

New York City Ends Vaccine Mandate for City Workers

The vaccine requirement led to a 96 percent vaccination rate for city employees, but also prompted hundreds of workers to be fired and a series of lawsuits.

By Emma G. Fitzsimmons and Sharon Otterman
Feb. 6, 2023

New York City will end its aggressive but contentious coronavirus vaccine mandate for municipal workers, Mayor Eric Adams announced on Monday, signaling a key moment in the city's long battle against the pandemic.

"With more than 96 percent of city workers and more than 80 percent of New Yorkers having received their primary Covid-19 series and more tools readily available to keep us healthy, this is the right moment for this decision," Mr. Adams said in a statement.

Starting Friday, Mr. Adams said that vaccination for the coronavirus would become optional for current and prospective city workers. Visitors to city schools will also no longer be required to provide proof of at least one dose of the vaccine to enter.
I'm reminded of the statement shared by a French general on Facebook saying that the unvaccinated are "superheroes" who "embody the best of humanity."

"Even if I were fully vaccinated, I would admire the unvaccinated for standing up to the greatest pressure I have ever seen, including from spouses, parents, children, friends, colleagues, and doctors," the letter said.

The psychological terror campaign the media and government waged against the public was truly a sight to behold.

Those of us who held out to the bitter end should really be given some sort of award!

Of course, not getting myocarditis and "dying suddenly" is a reward in itself but a certificate or a medal to thank us for our service would also be nice!!

Follow InformationLiberation on Twitter, Facebook, Gab, Minds and Telegram.