Mossad Carried Out Strike On Iranian Facility Exclusively For Israel's Own Interests, NYT Reports
Chris Menahan
InformationLiberation
Jan. 31, 2023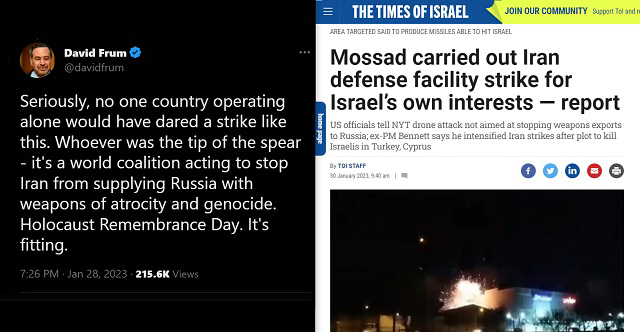 The Mossad's strike on an alleged Iranian defense facility was carried out purely to advance Israel's own interests and had nothing to do with Ukraine, senior intelligence officials told the New York Times on Sunday.

Neocon David Frum and Ukrainian war lobbyists on Saturday tried to market Israel's strikes to their libtard followers on Twitter as a "world coalition" acting together to stick it to Putin and the Ayatollah and avenge the "genocide" in Ukraine as well as the Holocaust.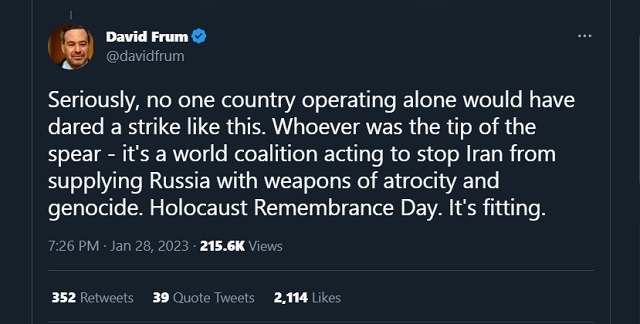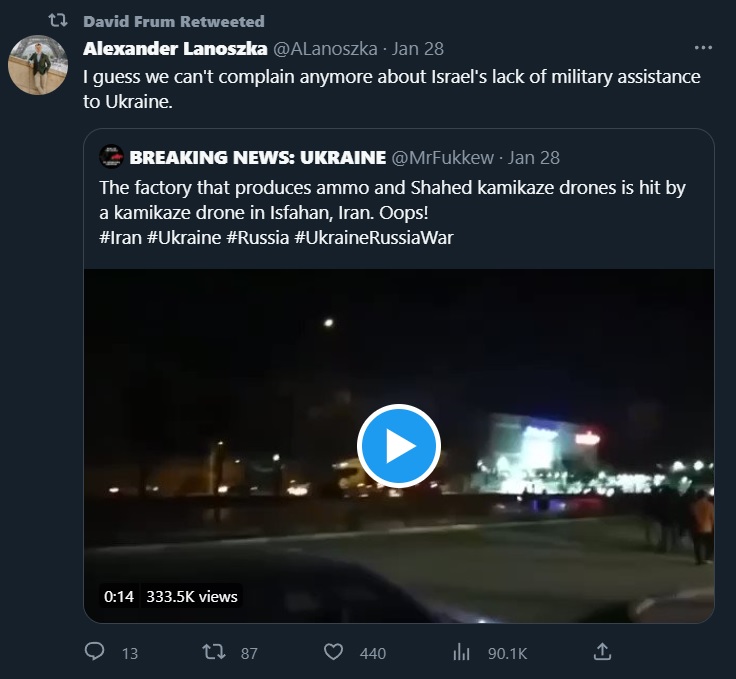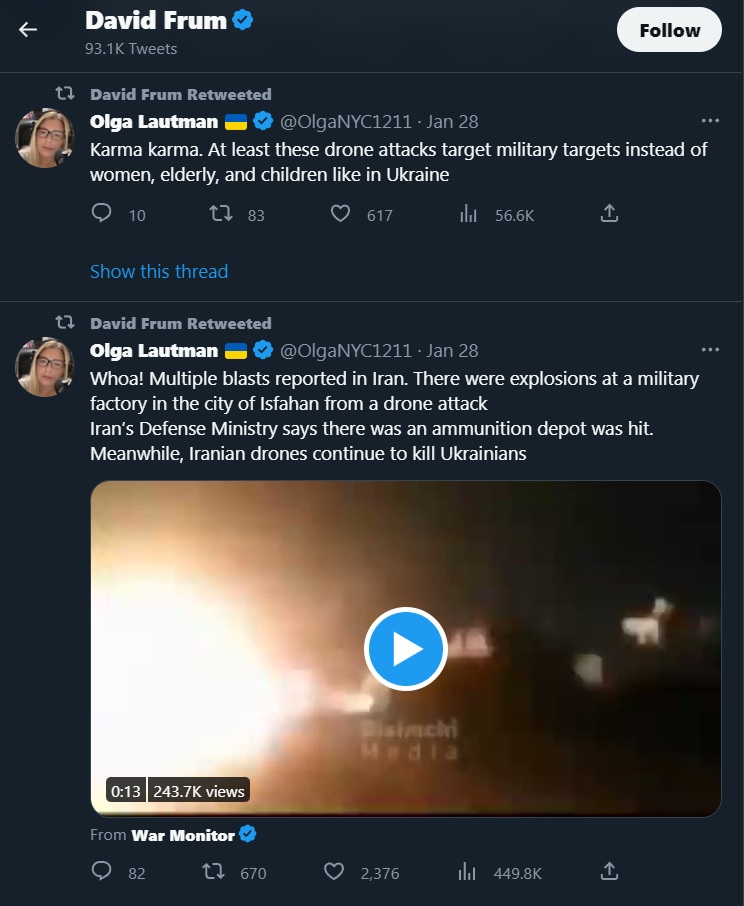 Israel has been criticized for not lifting a finger to help the US -- "their Greatest Ally™" -- with their proxy war against Russia in Ukraine so as to avoid jeopardizing Israel-Russia relations.

(Our Greatest Ally™ also chose not to send a single troop to Iraq after lobbying Congress to start a war over Saddam Hussein's non-existent WMDs.)

From The Times of Israel, "Mossad carried out Iran defense facility strike for Israel's own interests — report":

The drone attack on a defense facility in the Iranian city of Isfahan was carried out by Israel to protect its own security interests, and not to prevent weapons exports to Russia, according to a New York Times report on Sunday.

The Saturday strike was carried out by the Mossad intelligence agency, according to the newspaper, which cited senior United States intelligence officials.

[...] A Wall Street Journal report which also pointed the finger at Israel for the Isfahan strike noted the timing of the attack came at the same time that talks between Jerusalem and Washington are aimed at finding new ways to counter Tehran's nuclear program. US Secretary of State Antony Blinken is set to arrive in Israel on Monday.
"Weeks ago, American officials publicly identified Iran as the primary supplier of drones to Russia for use in the war in Ukraine, and they said they believed Russia was also trying to obtain Iranian missiles to use in the conflict," the NY Times reported. "But U.S. officials said they believed this strike was prompted by Israel's concerns about its own security, not the potential for missile exports to Russia."

Looking over Frum's Twitter, I can see he never shared the Times' report with his followers and never corrected the record.

Follow InformationLiberation on Twitter, Facebook, Gab, Minds and Telegram.