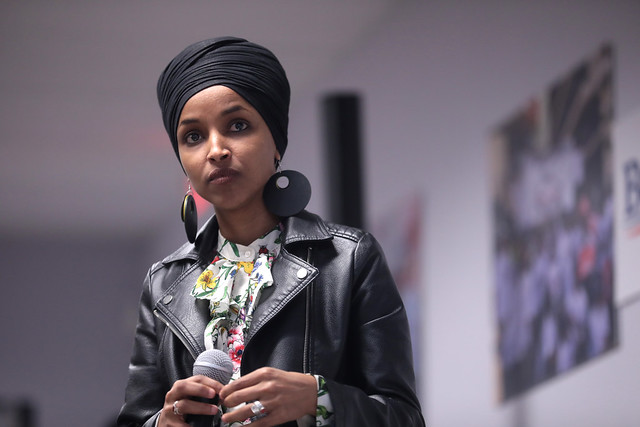 Ilhan Omar was generously granted refugee status in America after fleeing Somalia but she has zero interest in extending such generosity herself to former Brazilian President Jair Bolsonaro.

Instead, she wants him deported.

From RT, "US lawmakers want Bolsonaro deported":

Democratic Congress members have urged US authorities to extradite former Brazilian president Jair Bolsonaro to his home country, after his supporters stormed government buildings in the capital, Brasilia, on Sunday.

Bolsonaro has reportedly been living near Orlando, Florida, since December when he fled Brazil and refused to participate in the ceremonial handover of the presidential sash to his successor, Luiz Inacio Lula da Silva.

Speaking to CNN's Jim Acosta, Texas Democrat Joaquin Castro called on the White House and local authorities in Florida to consider sending the "dangerous" Bolsonaro back to Brazil.

Bolsonaro "should be extradited to Brazil," Castro told CNN, describing him as an authoritarian who used the "[Donald] Trump playbook" to inspire "domestic terrorists to try to take over the government."

His message comes after thousands of Bolsonaro's supporters marched through the Brazilian capital on Sunday, claiming the October presidential elections were compromised. The demonstrators, who insisted that there were a number of voting irregularities in the election, ended up storming the Brazilian Congress, Supreme Court and presidential Planalto Palace, leading to violent clashes with police.

Bolsonaro has repeatedly denied having any involvement in the unrest, insisting that he only supports peaceful demonstrations, which are "part of democracy."


Newly inaugurated Brazilian President Lula da Silva has repeatedly referred to his predecessor as a "genocidist," while the Joe Biden administration and other US officials have compared him to former American president Donald Trump.

"He basically used the Trump playbook to inspire domestic terrorists to try to take over the government," Castro told CNN, claiming the Sunday protests were reminiscent of the Jan 6 Capitol Hill riots in 2020.


New York representative Alexandria Ocasio-Cortez has also weighed in, writing on Twitter that the Brazil protests were the same as the "fascist movements" allegedly orchestrated by Trump when he refused to concede the election to Biden.
Incidentally, Ilhan Omar's family was part of a fascist movement that ruled Somalia and only fled the country and posed as "refugees" because their dictatorship was overthrown.

Similar views were also expressed by representatives Mark Takano from California and Ilhan Omar from Minnesota, both of whom called the riots an "attack" on democracy.
The Democrats have finally found a refugee they don't want.

I say deport these Democrats and put Bolsonaro on a fast-track to citizenship!

[Header image by Gage Skidmore, CC BY-SA 2.0]

Follow InformationLiberation on Twitter, Facebook, Gab, Minds and Telegram.