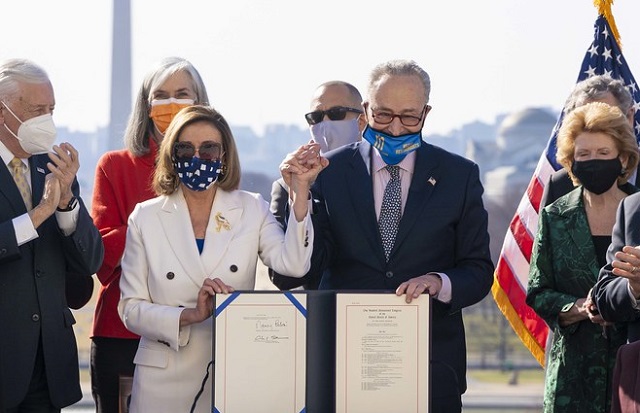 The bipartisan omnibus bill the Senate just passed not only arms Ukraine to the teeth but includes a provision to steal seized Russian assets and give them to Ukraine.

From CNN, "Amendment to transfer seized assets of Russian oligarchs to the people of Ukraine approved in US Congress":

Republican Sen. Lindsey Graham's amendment related to seized Russian oligarch's assets and transferring them to the people of Ukraine passed by voice vote.

It's the fourth amendment to be approved Thursday to the US government funding bill.

"This amendment would allow the Department of Justice through the Secretary of State to transfer proceeds from seized oligarch's assets or other sanctioned entities to the people of Ukraine," Graham said. "It will be a god send to the long suffering people of the Ukraine. It will be a relief to the American taxpayer... It will be a bad day for oligarchs."
American taxpayers said they didn't want a war with Russia, instead our government is sending the Zelensky regime around $110 billion in military and economic aid and agitating for a full-blown war.


The US is giving Ukraine nearly double Russia's entire annual military budget of $65 billion.


"The final vote on the 4,155-page bill was 68-29," The Daily Caller reports. "Republican Sens. Roy Blunt (MO), John Boozman (AR), Shelley Moore Capito (WV), Susan Collins (ME), John Cornyn (TX), Tom Cotton (AR), Lindsey Graham (SC), Jim Inhofe (OK), Mitch McConnell (KY), Jerry Moran (KS), Lisa Murkowski (AK), Robert Portman (OH), Mitt Romney (UT), Mike Rounds (SD), Richard Shelby (AL), John Thune (SD), Roger Wicker (MS) and Todd Young (IN) all voted in favor of the legislation."

Senator Mike Lee (R-UT) attempted to hold the bill up with an amendment defending Title 42 but Sen. Chuck Schumer (D-NY) came up with a procedural trick on Thursday to get around it.

From Breitbart:

Senate Majority Leader Chuck Schumer (D-NY) on Thursday morning announced an agreement to advance the $1.7 trillion omnibus bill before Christmas weekend.

Sen. Mitch McConnell (R-KY) and Democrats have been working to pass the omnibus bill before a self-imposed deadline of Thursday to avoid a shutdown at midnight on Friday. But negotiations become sticky after Sen. Mike Lee's (R-UT) Title 42 amendment threw a wrench in the Senate process. As a result, many critics of the deal were hopeful Congress would be forced to pass a short-term spending resolution (CR) to keep the government open, pending a continued standoff between Democrats on Lee's amendment.

If Congress passed a short-term CR to keep the government open until February, conservative House Republicans would receive a significant victory. Defeating the omnibus bill would improve House Republicans' position in the new Congress to gut many of the proposals in the massive spending bill. One of those proposals to cut would presumably have been the $45 billion worth of aid to Ukraine. The $45 billion is in addition to the $66 billion Congress already approved for Ukraine.

But Schumer has come up with a procedural tactic to circumvent Lee's amendment and avoid failing to pass the massive bill before Christmas. According to Punchbowl News, Schumer has drafted a side-by-side amendment on Title 42, which is crafted to cancel Lee's amendment by giving Democrats and Republicans each a vote.

Schumer told reporters the tactic will allow the $1.7 trillion dollar spending bill to pass the Senate Thursday, enabling senators to go home before Christmas, a self-imposed deadline by Schumer's negotiating colleague, McConnell, who has publicly supported the massive bill.
It's a Hanukkah miracle!


The bill is expected to pass the House later today.

Follow InformationLiberation on Twitter, Facebook, Gab, Minds and Telegram.