As U.S. Preps to Send Another $45B to Ukraine, Zelensky Says He Plans to Tell Congress They're Not Doing Enough
Chris Menahan
InformationLiberation
Dec. 21, 2022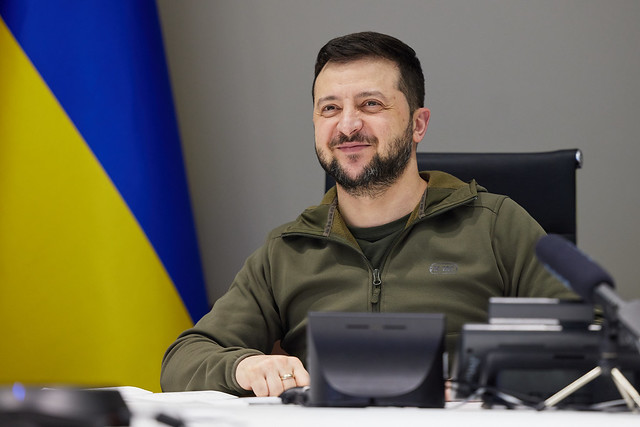 With the US government set to pledge a total of around $100 billion to Ukraine and arm them with our Patriot missile defense system, Ukrainian president Volodymyr Zelensky told his supporters that when he visits the US Capitol on Wednesday he plans to tell Congress their support "is not enough."

From AP, "Ukraine's Zelenskyy preparing to visit DC on Wednesday":

Ukrainian President Volodymyr Zelenskyy is preparing to visit Washington on Wednesday, according to three AP sources, in his first known trip outside the country since Russia's invasion began in February.

Two congressional sources and one person familiar with the matter confirmed plans for the visit. They spoke on the condition of anonymity because of the highly sensitive nature of the trip. They said Zelenskyy's visit, while expected, could still be called off at the last minute due to security concerns.

The visit to Washington is set to include an address to Congress on Capitol Hill and a meeting with President Joe Biden. It comes as lawmakers are preparing to vote on a year-end spending package that includes about $45 billion in emergency assistance to Ukraine and as the U.S. prepares to send Patriot surface-to-air missiles to help stave off Russia's invasion.

The latest tranche of U.S. funding would be the biggest American infusion of assistance yet to Ukraine, above even Biden's $37 billion emergency request, and would ensure that funding flows to the war effort for months to come.

[...] In a video released by [Zelenskyy's] office from the Bakhmut visit, Zelenskyy was handed a Ukrainian flag and alluded to delivering it to U.S. leaders.

"The guys handed over our beautiful Ukrainian flag with their signatures for us to pass on," Zelenskyy said in the video. "We are not in an easy situation. The enemy is increasing its army. Our people are braver and need more powerful weapons. We will pass it on from the boys to the Congress, to the president of the United States. We are grateful for their support, but it is not enough. It is a hint — it is not enough."
Zelensky in July similarly said the domestic concerns of Americans are "nothing" compared to the needs of Ukrainians fighting for their lives and our help will not be "sufficient" until Ukraine "wins" the war.

The Zelensky regime was caught last month bombing Poland and blaming Russia for the strike in what many believe was a deliberate false flag attack to con America and NATO into World War 3.

The Biden regime is rewarded Zelensky's criminal behavior by sending him billions of dollars which he can funnel to his many offshore bank accounts.

Follow InformationLiberation on Twitter, Facebook, Gab, Minds and Telegram.