DOJ Head Merrick Garland Appoints 'War Crimes Expert' As Special Counsel to Investigate Trump
Chris Menahan
InformationLiberation
Nov. 18, 2022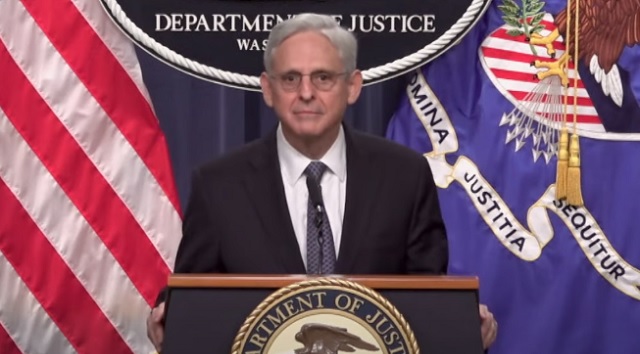 Remember how the Biden regime tried to distract from their disastrous pullout of Afghanistan by drone-striking a group of "ISIS-K fighters" but it turned out they actually just killed 10 random innocent Afghan civilians, 7 of whom were children?



Remember how no one was punished for said war crimes even though the Pentagon were forced to admit they lied about the strike?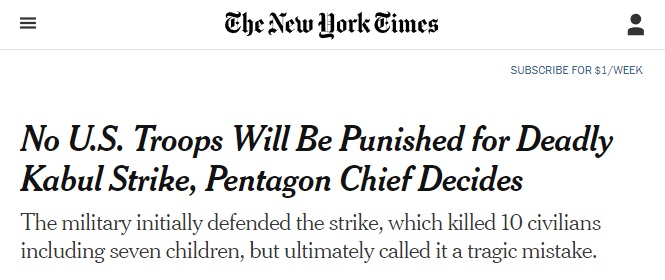 In related news...

From Reuters, "U.S. Justice Dept. names war crimes expert as special counsel for Trump probes":

U.S. Attorney General Merrick Garland on Friday named Jack Smith, a war crimes prosecutor, to serve as special counsel to oversee Justice Department investigations related to Donald Trump including the former president's handling of sensitive documents and efforts to overturn the 2020 election.

Garland's announcement came three days after Trump, a Republican, announced he would run for president again in 2024. Garland said Trump's candidacy, as well as Democratic President Biden's stated intention to run for re-election, made the appointment of a special counsel necessary.
Special counsels are sometimes appointed to investigate politically sensitive cases and they do their jobs with a degree of independence from the Justice Department leadership.

"The pace of the investigations will not pause or flag under my watch," Smith said in a statement. "I will exercise independent judgment and will move the investigations forward expeditiously and thoroughly to whatever outcome the facts and the law dictate."

Smith will oversee the investigation into Trump's handling of government documents after leaving the White House last year and the probe into attempts to interfere with the peaceful transfer of power following the 2020 election, Garland said.
Trump had a special counsel harassing him over the Russiagate hoax for most of his presidency and now he's going to have another special counsel harassing him while he runs for second term.

Trump responded to the news in a speech at Mar-a-Lago, calling the appointment "rigged deal" and a "horrendous abuse of power" that's "the latest in a long series of witch hunts."



Bill Barr, the Trump-appointed former Attorney General who covered-up the Jeffrey Epstein case and let Israeli spy Jonathan Pollard flee to Israel, told CNN on Friday he thinks Garland probably has the basis for "legitimately" indicting Trump.


Trump supporters were strung along by Barr and John Durham with endless Q-Anon Trust the Plan™ garbage that indictments of our crooked elites were just around the corner but the only one who is going to get indicted appears to be Donald Trump.


Trump and his supporters would chant "lock her up" at his campaign rallies but when he became president he declined to go after Hillary Clinton for any of her many crimes because he thought it would be untoward. Meanwhile, Biden, who ran on "restoring decency," is working on locking Trump up while he's running against him for the presidency.

Follow InformationLiberation on Twitter, Facebook, Gab, Minds and Telegram.