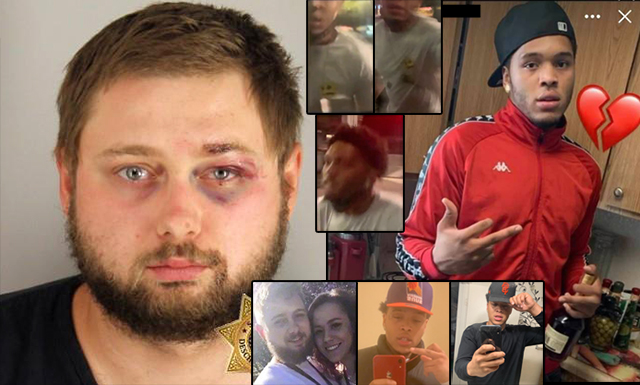 Ian Cranston was found guilty of first-degree manslaughter on Wednesday for shooting a black assailant in self-defense in a case that never should have even gone to court.

From Oregon Public Broadcasting, "Jury convicts Ian Cranston of manslaughter in Bend nightclub shooting":

A Deschutes County jury Wednesday found Ian Cranston guilty of first-degree manslaughter, more than a year after he shot and killed Barry Washington, Jr., an unarmed Black man, outside a bar in downtown Bend.

The jury found him not guilty of the more severe second-degree murder charge, but found him guilty of all five other charges. Those included second-degree manslaughter, first-degree assault and two counts of unlawful use of a weapon.
The conviction came after a two-week trial, in which attorneys pored over video of the shooting. With much of the incident captured on video, the case hinged on whether jurors thought Cranston acted in self-defense and feared for his safety at the time.

The killing spurred a series of protests at the time of Washington's death, as similar demonstrations occurred across the nation over the deaths of unarmed Black men. Washington's mother has repeatedly said her son would still be alive if he wasn't Black. Recently, protesters also have marched in downtown Bend every day of the trial.
Cranston never would have been charged if he was black or if the man he shot was white.

Far-left Deschutes County District Attorney John Hummel lied about what took place in order to charge him.


The jury was apparently convinced that they had to charge Cranston with something (he's guilty after all because he's white and Washington was black so there must have been some vague undercurrent of racism) so they hit him with lesser charges of manslaughter.

State prosecutors argued he was guilty of murder because he took a drag from his cigarette after shooting Washington, which they said was like a scene from a Clint Eastwood movie:

Attorneys on both sides said Cranston and Washington got into an argument in September 2021 after Washington flirted with Cranston's fiancée, which eventually led to punches being thrown. The interpretations of what led to those punches and the events that followed have divided the two sides throughout the trial.

Prosecutors spent much of their case attempting to illustrate that Cranston did not fear for his safety during the shooting. Assistant District Attorney J. Michael Swart revealed surprising new evidence during closing arguments Tuesday, showing Cranston's first action after shooting Washington was to take a drag of a cigarette in his hand.

Cranston holding and smoking a cigarette during the fight, Swart argued, showed he was calm and not in fear for his personal safety. It contradicted the defense's argument that Cranston immediately tried to render aid to Washington after he was shot.

"Clint Eastwood wouldn't have been prouder," Swart said of Cranston's actions. "He's got his cigarette in his hand the entire time."
I guess Cranston's attorneys needed to counter this nonsense by citing a line about self-defense from Harry Potter?

Prosecutors also asked Cranston about his history owning firearms, and why he chose to bring a concealed weapon to a bar that night when he would be drinking. The defense has noted Oregon law doesn't forbid drinking while carrying a firearm.

District Attorney John Hummel declined to speak with reporters after the trial. In a written statement, he said the jury's decision provides accountability for Cranston's actions in 2021.

"Today is not a day to rejoice, nor is it a day to celebrate," Hummel said. "This verdict does not provide Ms. Roberson what she ultimately wants, but hopefully knowing that the residents of Deschutes County valued Barry's life provides her some comfort moving forward."
They tried this same line of bullshit in the Kyle Rittenhouse case -- i.e. you must be guilty because you chose to carry a gun in self-defense -- but he got a smarter and less biased jury that saw right through it.

Cranston's defense team, led by attorney Kevin Sali, insisted he acted in self defense that night, particularly focusing on alleged injuries Cranston received after Washington punched him twice in the head. Sali said Cranston had no way of knowing how severe another punch could've been.

"It was a shot that the law absolutely gave him the right to fire," Sali told the jury Tuesday before they entered deliberations.

During testimony, Cranston said he knew shooting Washington could kill him, but that he did not intend for Washington to die. He said he was trying to stop what he perceived as an ongoing threat.
Sali also repeatedly referred to the size difference between Washington and Cranston, pointing out that his client weighs less and was much shorter than Washington. Prosecutors mentioned at various points that Cranston lost 60 pounds between the shooting and the start of the trial, and was much closer to Washington's weight at the time of the killing.

During its case, the defense called Dr. Jennifer Stankus, an Olympia-based doctor who often testifies in trials. Stankus said she believed Cranston's skull was fractured that night based on his medical reports, though medical staff who attended to him on the night of the shooting did not find such an injury. Sali later changed his argument to say that another punch had the potential of fracturing his client's skull.

Sali called only two witnesses to the stand throughout the trial — Stankus and Cranston. He spent much of Cranston's testimony showing the jury video footage of the shooting, stating that Cranston did not exacerbate the situation, while Washington did on multiple occasions.

Prosecutors said Cranston had multiple chances to leave, but chose to stay engaged with Washington while he pulled out his firearm.

The jury deliberated Tuesday afternoon and Wednesday morning before convicting Cranston of the first-degree manslaughter charge, which is a class A felony in Oregon, and can carry up to a 20-year prison sentence.

Sali told reporters following the verdict that they plan to appeal the decision. A sentencing hearing is scheduled for Nov. 28.
The video is clear as day. You can see Washington was on the attack when Cranston shot him.

If the races were reversed, Cranston never would have even been charged.

The reverse did happen last year when Devon Dontray Dunham was found not guilty of murder in the shooting death of unarmed former volunteer fire chief Ernest Martin Stevens, 77, despite his confession and 19 witnesses taking the stand against him.


According to Dunham's lawyer, an armed Dunham "wanted a ride" from Stevens and approached him while he was sitting in his Ford F-150 in a parking lot "but felt threatened" by him and saw him "reach for something" so he decided to unload all 8 rounds of his 9 mm handgun into Stevens' truck before running away.

Dunham struck Stevens with four bullets that hit his jaw, left arm, back and chest and fatally injured his heart and lung.

Stevens was unarmed.

Dunham initially lied to police and "denied knowing anything about the shooting" and "said he wasn't in the city at the time" before confessing and claiming he "wasn't trying to hurt him" when he unloaded into his car.

Nonetheless, Dunham was acquitted because his lawyer made vague insinuations that racism may have been at play. Even though said insinuations were swiftly shut down by the judge, at least one member of the jury appears to have decided that was all they needed to hear and found him not guilty after less than 2 hours of deliberations.

"In South Carolina law, murder is 'the killing of any person with malice aforethought, either express or implied,'" The Island Packet reported. "The prosecutors have to prove the charge 'beyond a reasonable doubt' and all 12 jurors must agree on whether the verdict is guilty or not guilty."

In Olde America, your guilt was determined by your own actions and the evidence presented in court. In the New America™, your guilt is determined by your skin color and your ancestors.

Follow InformationLiberation on Twitter, Facebook, Gab, Minds and Telegram.