AP Issues 'Correction' to Lie That 'Russian Missiles' Struck Poland, Admits Ukraine Most Likely Culprit
Chris Menahan
InformationLiberation
Nov. 16, 2022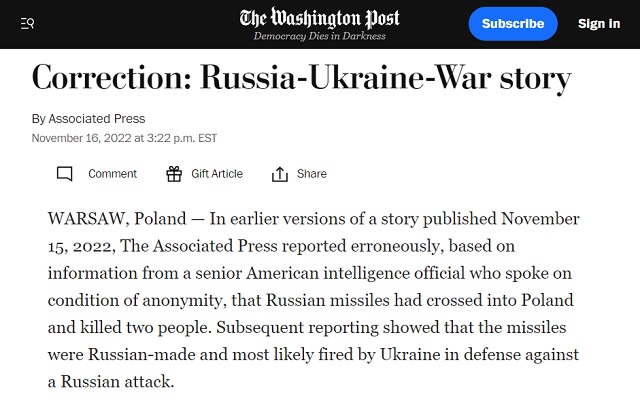 The Associated Press on Wednesday issued a correction to their false report that blamed Russia for striking Poland based off the claim of one single anonymous senior US intelligence official.

From The Washington Post:

Correction: Russia-Ukraine-War story

By Associated Press
November 16, 2022 at 3:22 p.m. EST

WARSAW, Poland — In earlier versions of a story published November 15, 2022, The Associated Press reported erroneously, based on information from a senior American intelligence official who spoke on condition of anonymity, that Russian missiles had crossed into Poland and killed two people. Subsequent reporting showed that the missiles were Russian-made and most likely fired by Ukraine in defense against a Russian attack.
The AP broke their own own rules on the use of anonymous sources to put this propaganda out on behalf of the Biden regime:

Under AP's rules, material from anonymous sources may be used only if:

1. The material is information and not opinion or speculation, and is vital to the report.

2. The information is not available except under the conditions of anonymity imposed by the source.

3. The source is reliable, and in a position to have direct knowledge of the information.
The US intel official's claim was pure speculation and the Biden regime is packed to the brim with proven liars.

Seeing as how this story has fallen apart piece by piece, the next question to ask is whether this Ukrainian strike on Poland was inadvertent as they claim or a deliberate USS Liberty-style false flag intended to drag America and NATO into war?

Follow InformationLiberation on Twitter, Facebook, Gab, Minds and Telegram.