Biden Throws Cold Water On WWIII Talk, Says "It's Unlikely" Projectile That Hit Poland Was From Russia
Chris Menahan
InformationLiberation
Nov. 15, 2022


Joe Biden on Tuesday night said "it's unlikely" that the projectile which struck Poland was fired from Russia, given its trajectory.


From ABC News:

Following his meeting with leaders of the G-7 and NATO on Ukraine, President Joe Biden said Tuesday night that it's "unlikely" the missile that hit Poland was fired from Russia, but that the group would support the investigation into what happened.

When asked if it's too early to say whether the missile was fired by Russia, Biden responded: "There is preliminary information that contests that. I don't want to say that till we completely investigate, but it's unlikely in the minds of the trajectory that it was fired from Russia, but we will see."

"I'm going to make sure we find out exactly what happened," Biden said, and then determine the next steps, adding that there was "total unanimity" among leaders today on this decision.
Libtards on Twitter were hoping for a nuclear exchange.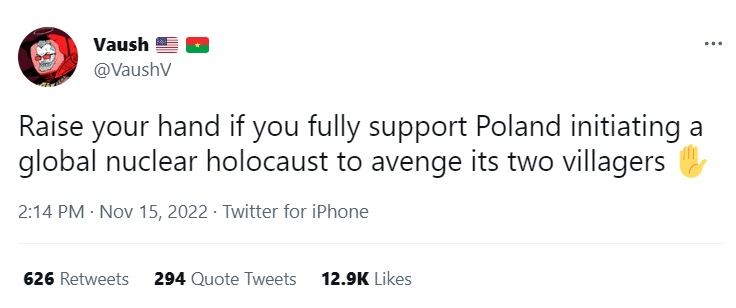 Zelensky tried to use the incident to further drag America and NATO into the war.


Polish President Andrzej Duda said they have "no conclusive evidence" who fired the missile.


The Russians denied having anything to do with the missile and said photos of the projectile fragments "have nothing to do with Russian weapons."

They said statements from Ukraine and Poland blaming Russia for the projectile are "a deliberate provocation in order to escalate the situation."

Biden's de-escalation suggests the most likely culprit was an S-300 missile fired by Ukraine which either went astray amid Russia's latest bombing campaign or was deliberately fired as a provocation to frame Russia and con NATO into war.


Follow InformationLiberation on Twitter, Facebook, Gab, Minds and Telegram.