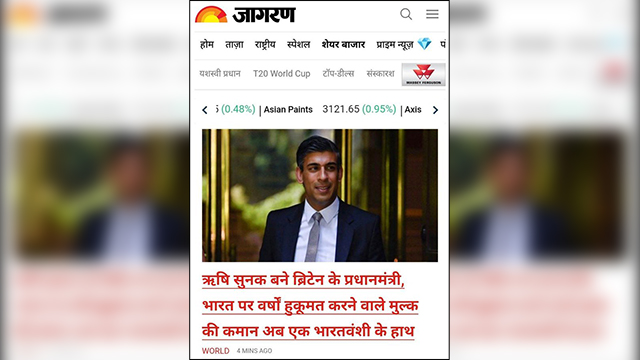 India's second largest newspaper on Monday celebrated Rishi Sunak being appointed UK Prime Minister as a victory for Indians over their former British colonial masters.

"Rishi Sunak became the Prime Minister of Britain, command of the country that subjugated India for years is now in the hands of an Indian," India's Dainik Jagran commented.



The reaction from the Indian press contrasts starkly with that of the British media, who insist Sunak is quintessentially British.


From Yahoo News, "LBC host shuts down 'racist' caller who says Rishi Sunak 'isn't even British'":

LBC host Sangita Myska [an Indian born in Tanzania] calmly dealt with a caller who suggested Tory leadership contender Rishi Sunak "doesn't love England" and "isn't even British in most people's opinion".

[...] When asked what it would take for Sunak to "prove" his Britishness to the point where Tory members would vote for him, he said: "I don't doubt he's British don't get me wrong. He doesn't love England. His family, his business, they seem to be globalists, they don't seem to love England."

Myska urged Jerry not to use the term "globalist", saying: "Many of my Jewish listeners will find that incredibly offensive because it has also been used, at times, as a racist put down to the Jewish community."

Asking a question that would have been on many listeners' minds, Myska added: "Is the real problem here, Jerry, that Rishi Sunak is a brown man and you don't trust him at the top of this country?"

The caller, from Lowestoft, replied: "Could you imagine him going to the Scottish nationalists and being the prime minister of the Scottish nationalists? Could you imagine me becoming the prime minister of Pakistan or Saudi Arabia? No.

"These things matter. I'm sorry you don't like it. We're talking about England, right? 85% of the English, yes, are white English people, and they want to see a prime minister who reflects them. I can't just go to India and be the president there can I?"

He then told Myska she had "completely twisted" what he was saying when she suggested he only thinks people can be English if they're white and that Tory members won't vote for Sunak because of the colour of his skin.

"I think you're losing this argument, Jerry, I think you are fundamentally a racist and it's absolutely fascinating to me to hear that you and other Tory Party members think like this," the host replied.
While the Indian media is celebrating Sunak's victory as a win over their former colonial masters, the Indians in the UK media are badgering Brits as "racist" if they dare to notice.

Follow InformationLiberation on Twitter, Facebook, Gab, Minds and Telegram.