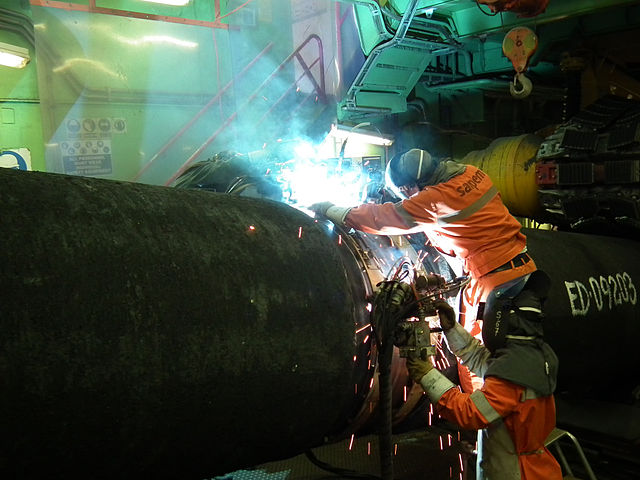 Did the CIA just sabotage the Nord Stream 2 and Nord Stream 1 pipelines?

UPDATE: Reuters reported Monday night that Nord Stream 1 was also experiencing an unexplained pressure drop.

From Reuters, "Nord Stream AG operator says looking into decline in pressure in Nord Stream 1":

Nord Stream AG, the operator of the Nord Stream 1 undersea gas pipeline from Russia to Germany, said Monday it was looking into causes of a drop in pressure in the pipeline.

"Tonight, dispatchers from the Nord Stream 1 control centre recorded a pressure drop on both branches of the gas pipeline," it said in a statement. "The reasons are being clarified."
The odds this was the result of a deliberate attack are going through the roof.

****

From The Guardian, "Nord Stream 2 pipeline pressure collapses mysteriously overnight":

Authorities in Germany are trying to establish what caused a sudden drop in pressure in the defunct Nord Stream 2 gas pipeline, with a spokesperson for its operator saying it could have been a leak.

The pipeline has been one of the flashpoints in an escalating energy war between Europe and Moscow since Russia's invasion of Ukraine in February that has pummelled western economies and sent gas prices soaring.

Nord Stream 2's operator said pressure in the undersea pipeline dropped from 105 to 7 bar overnight.

The Russian-owned pipeline, which was intended to double the volume of gas flowing from Vyborg, Russia, under the Baltic Sea to Germany, had just been completed and filled with 300m cubic metres of gas when the German chancellor, Olaf Scholz, cancelled it shortly before Russia invaded Ukraine.

European countries have resisted Russian calls to allow Nord Stream 2 to operate and accused Moscow of using energy as a weapon. Russia denies doing so and blames the west for gas shortages.
Russian state media is only reporting an "incident" occurred and a "security zone" is being set up around the perimeter.

From Sputnik, "Security Zone Established in Danish Waters Due to Emergency at Nord Stream 2, Operator Says":

Monday's incident on the Nord Stream 2 natural gas pipeline occurred in the Danish waters near the island of Bornholm, with a five-nautical-mile security zone being established at the scene after the emergency, the gas pipeline operator, Nord Stream 2 AG, told Sputnik.

"In cooperation with coastal services, it has been discovered that the incident occurred in the Danish EEZ [exclusive economic zone] southeast of Bornholm. Coastal services have established a security zone with radius of five nautical miles," the operator said.
There is tremendous pressure on Germany and the EU to fire up Nord Stream 2 with energy prices soaring.


Nord Stream 2 has been literally just sitting there jam-packed with gas ready to be turned on at any moment and deliver billions of dollars worth of dirt cheap Russian gas every year.

Nonetheless, just as we saw last week with Belgium shutting down a perfectly fine nuclear power plant to "appease" climate cultists, the EU and Germany is insisting the public suffer in defense of the Liberal World Order.

[Header image stock photo of Nord Stream pipeline by Bair175 via Wikicommons, CC BY-SA 3.0]

Follow InformationLiberation on Twitter, Facebook, Gab, Minds and Telegram.