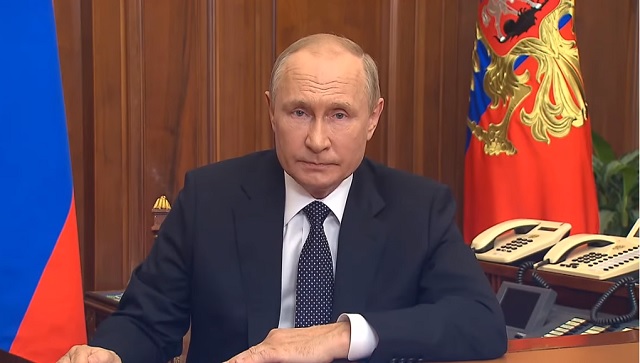 Russian President Vladimir Putin announced a partial military mobilization in an address broadcast Wednesday and warned the West that he would respond in kind if Russian forces were attacked with tactical nukes.

WATCH:



From RT, Russia to begin partial mobilization – Putin:

Russian President Vladimir Putin announced a partial military mobilization during an address to the nation on Wednesday morning. He said the Defense Ministry had recommended drawing military reservists into active service as the country faces a protracted conflict in Ukraine and Donbass.

The measure is sensible and necessary under the circumstances, Putin said, considering that Russia is fighting "the entire Western military machine" in Ukraine. He has already signed an order for the call-up to start immediately.

The move will see the armed forces draw on military reservists only, and those who have completed national service, the president added. He promised that they would be provided with additional training, along with all the benefits due to people involved in active duty.

Defense Minister Sergey Shoigu revealed some details about the mobilization in a separate statement on Wednesday. He said the ministry wanted to call to arms some 300,000 reservists, or just over 1% of Russia's full mobilization potential.
Russia has been fighting the war so far with only around 190,000 troops.

After suffering setbacks in Kharkov, Russia escalated the war by striking critical infrastructure and knocking power plants offline.

Russia was expecting a quick surrender when the war began and avoided a US-style "Shock and Awe" campaign (likely to avoid sparking an insurgency) but it failed.

Putin has accused Kiev of backing away from peace talks with Moscow, which he said it had done on the instructions of its Western backers. Instead, the Ukrainian government has doubled down on military action, he said.

"After certain compromises [with Moscow] were reached, Kiev received a de facto direct order to derail all agreements. More weapons were pumped into Ukraine. The Kiev regime deployed more gangs of international mercenaries and nationalists, military units trained to NATO standards and under de facto command of Western advisers," Putin said.

Russian forces sent to Ukraine in February have secured a large portion of territory claimed by the Donetsk and Lugansk People's Republics, as well as parts of Ukraine, he said. The resulting front line stretches over 1,000km, the president pointed out.

He warned the US and its allies against ramping up pressure on Moscow. Western nations are openly pursuing a military defeat of Russia, seeking to push the country into insignificance and to loot its natural wealth, he stated.

"Parts of Western elites use every effort to preserve their dominance. That is why they try to block and suppress any sovereign centers of development, so that they can continue to brutally force their will on other nations and peoples, to impose their pseudo-values," he explained. "Their goal is to weaken, disunite and ultimately destroy our nation."

Some senior officials in NATO states have even suggested that using tactical nuclear weapons against Russian troops would be justified, according to Putin. The president stressed that Moscow would not hesitate to retaliate to such an attack with its own nuclear weapons.

Putin also commented on the upcoming referendums in the two Donbass republics and two regions of Ukraine currently controlled to a large extent by Russian troops. The four entities are putting to a general vote a proposal to ask Moscow to accept them as new parts of the Russian Federation, with polling scheduled to start on Friday.

The Russian leader pledged to support the plebiscites in terms of security and said his government would respect whatever outcomes they produce. Russia's goal is to protect civilians from the Ukrainian government, which had escalated the persecution of its opponents at home and had been using terrorist tactics against people living in Russia-controlled lands, Putin said.
From RT, "West wants to partition Russia like USSR – Putin":

Russia is under an attack by the West, which wants the country to be broken up into warring pieces, President Vladimir Putin has claimed.

"The Western goal is to weaken, disunite and ultimately destroy our nation. They are saying directly that they managed to break up the Soviet Union in 1991, and now it is time for Russia itself to be split into many regions that would be at each other's throats," the Russian leader stated in a televised address on Wednesday.

Putin's accusations came as he updated the nation on Russia's military campaign in Ukraine and explained his decision to mobilize army reserves. He insisted that the hostile Ukrainian government in Kiev was a product of Western-induced Russophobia.

"For decades [the West] has intentionally fostered hatred towards Russia, first and foremost in Ukraine, which they envisioned as a foothold against Russia. The West turned the Ukrainian people into cannon fodder and pushed them to a war against our country," Putin said. He stated that the ongoing conflict started in 2014, when an armed coup in Kiev toppled Ukraine's elected government.

The US and its allies have stated their goal as being Russia's defeat on the battlefield, which, according to Putin, would lead to a "total negation of [Russia's] political, economic, cultural and any other kind of sovereignty, a total pillaging of our nation."

He warned that Russia will use any means at its disposal to defend itself and ensure its territorial integrity, up to and including the deployment of its nuclear arsenal, if attacked with weapons of mass destruction. Putin stressed that he was "not bluffing."

The president added that "stopping those who vie for world dominance and threaten to dismember and enslave our homeland" is part of Russia's national tradition, and that the Ukraine crisis is no different to what the nation has faced in the past.
China is watching how much trouble Russia is having and is no doubt wondering if it's better to take Taiwan now rather than wait for later. Had Russia invaded Ukraine in 2014 they could have rolled them over but they waited for 8 years as some $17 billion worth of US high-tech weaponry and military aid was poured in.

The US is making plans to send Taiwan a whopping $6.5 billion in military aid and Biden just days ago threatened China with war if they dared to carry out "an unprecedented attack" against the island.

Follow InformationLiberation on Twitter, Facebook, Gab, Minds and Telegram.