Javier Ortiz, Pro-Trump Police Officer Who Mocked Libtards, Gets Fired by 'Corrupt' Miami Police Chief
Chris Menahan
InformationLiberation
Sep. 14, 2022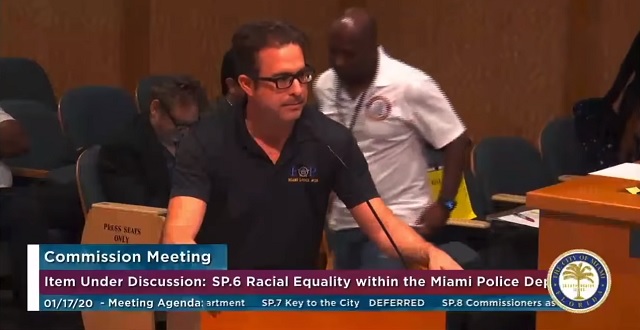 Miami Police Captain Javier Ortiz, an 18-year veteran of the force who made headlines two years ago for choosing to identify as a black male during a DOJ "racial equality" probe, was fired this week by "corrupt" Miami Police Chief Manuel Morales.



From Local 10, "Miami Police Department fires 18-year veteran Capt. Javier Ortiz":

Miami Police Capt. Javier Ortiz was an 18-year veteran of the force.

The department confirmed Ortiz was terminated on Tuesday.

Ortiz's termination letter, which can be viewed [here], accuses him of improperly approving overtime for officers under his command.

A panel initially recommended he be fired over the issue but another board later exonerated him.

Miami Police Chief Manuel Morales says he had the final say Tuesday.

"It was part of the totality of the evidence that I looked at," Morales said. "He lacks good moral character."
[...] Griska Mena is Ortiz's attorney.

She said the veteran cop's firing is shocking and unwarranted.

"Those investigations and those allegations were not sustained," said Mena. "As to the allegations here, he was following a directive from the chief of police at that time."

Local 10 News' Christian De La Rosa asked Mena what she believes the motive behind the firing was, if there was, as she says, no evidence against Ortiz.

"There are political motivations," she replied, while stressing that Ortiz will appeal the termination.

[...] "Today's decision made by Chief Morales shows complete disregard for the decision and opinions of the five staff members who voted to exonerate my client based on evidence," [Ortiz' attorney said]. "These staff members recommended the discipline he rescinded. It shocks the conscious that 5 staff members exonerated him and recommended the discipline to be rescinded, but today he gets fired."

"The Chief's decision and his explanation can only be attributed to political pressures and refusing to acknowledge that Javier Ortiz did nothing wrong."
Earlier this year, two Miami police officers accused Chief Morales of corruption for allegedly using his position to retaliate against certain officers while rewarding his lackeys.

Wanda Jean-Baptiste, a 16-year veteran, accused Morales of targeting Ortiz for "not finding former Chief [Art] Acevedo guilty of being involved in an unreported crash."

"[J]ust this past week, I was directed by Internal Affairs staff to remove Chief Morales' name from the investigation file as being the person who directed the reopening of a case on Captain Ortiz," Jean-Baptiste reported. "I refused to do it. I refuse to be part of the cover up. I refuse to tarnish my honor, my integrity and my police badge."



Miami Police Corruption -- ... by Political Cortadito


Follow InformationLiberation on Twitter, Facebook, Gab, Minds and Telegram.