SHOCK: Formerly Hispanic Miami Police Officer SUSPENDED For Identifying As Black!
Chris Menahan
InformationLiberation
Jan. 23, 2020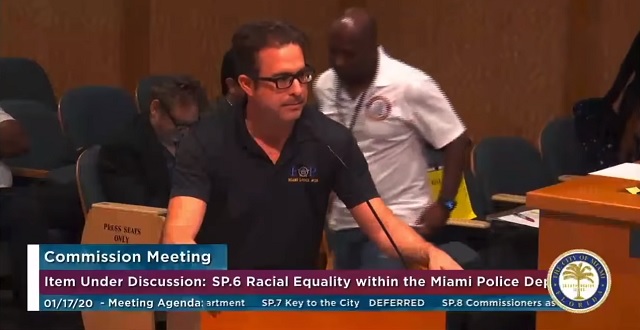 Transracialphobic bigotry is hitting record levels in America and yet the media and Democratic Party are silent!

Miami police Capt. Javier Ortiz, the formerly Hispanic police officer who chose to identify as a black male while his department was being subject to a "racial equality" probe, was suspended on Wednesday in an act of unadulterated racial hatred!

Where is Julian Castro to condemn this bigotry?!

From the Miami New Times, "Miami Cop Javier Ortiz Suspended With Pay After Claiming He's Black":

Days after claiming he was a black man at a Miami City Commission meeting, Capt. Javier Ortiz was suspended with pay today, the Miami Police Department (MPD) informed New Times.

"We can confirm that Captain J. Ortiz has been relieved of duty with pay," spokesperson Michael Vega said via email.

Late last year, the Miami Community Police Benevolent Association (MCPBA) unearthed records showing Ortiz had claimed he was a white Hispanic man when he applied to work at MPD but then claimed in 2014 and 2017 on paperwork provided to New Times that he was a black man. The U.S. Department of Justice was monitoring the department at the time, and black officers accused Ortiz [...] of faking his race to boost the department's diversity statistics. At a city commission meeting last Friday, the MCPBA demanded Chief Jorge Colina address racism in his department or resign.
It's not surprising the system would conspire to hold another black man down!



This is outrageous!

During that meeting, Ortiz stood up and defended himself. He claimed he was "a black male" and said that, after finding out he had black family members, the "one-drop rule" means he's actually black. He also said he was "a black male, or a Negro," while staring directly at the city's only black commissioner, Keon Hardemon. Over the weekend, the Miami-Dade County chapter of the National Association for the Advancement of Colored People (NAACP) called Ortiz's comments "downright disturbing" and has since called for his termination.

New Times asked MPD its exact reasons for suspending the former union chief, but the department declined to comment further.
We know the reason: racism.

It turns out this innocent black man is more based than anyone could imagine (so of course he has to be destroyed!):

Ortiz is far and away the most controversial cop in Miami. As the former head of the Miami Fraternal Order of Police (FOP) from 2011 to 2017, he fought police oversight at every turn, praised Donald Trump constantly, and spent his free time defending cops who've killed black people. He once drew demonic eyes and teeth on a mugshot of a black defendant. He also infamously tried to start a nationwide Beyoncé boycott after claiming her 2016 Super Bowl performance was anti-police. He has tweeted to support the officers who've killed Michael Brown, Alton Sterling, and event 12-year-old Tamir Rice, whom Ortiz called a "thug."
So a black man is not allowed to be a conservative?!

WOW!

This is more proof The Democrats Are The Real Racists™, folks!

Follow InformationLiberation on Twitter, Facebook, Gab and Minds.