Pfizer CEO Albert Bourla, Who Claimed Vax Was '100% Effective in Preventing Covid,' Reveals He's Sick With Covid
Chris Menahan
InformationLiberation
Aug. 16, 2022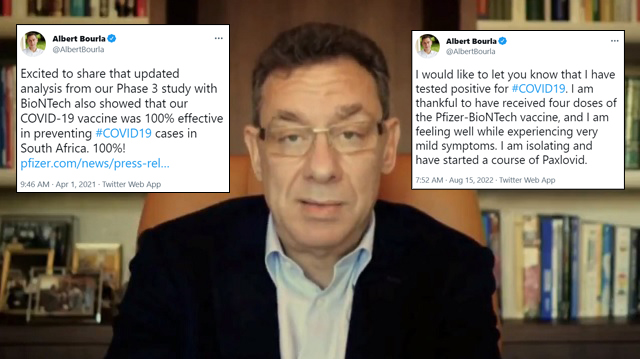 Quadruple-vaccinated Pfizer CEO Albert Bourla, who claimed back in April 2021 that his company's mRNA covid vaccine "was 100% effective in preventing covid," announced Monday that he was sick with covid.


"I would like to let you know that I have tested positive for #COVID19," Bourla announced on Twitter. "I am thankful to have received four doses of the Pfizer-BioNTech vaccine, and I am feeling well while experiencing very mild symptoms. I am isolating and have started a course of Paxlovid."


"We have come so far in our efforts to battle this disease that I am confident I will have a speedy recovery," Bourla said in a follow-up tweet. "I am incredibly grateful for the tireless efforts of my Pfizer colleagues who worked to make vaccines and treatments available for me and people around the world."


In November, Bourla said those who spread "misinformation" about his experimental mRNA covid injections are "criminals."

"Those people are criminals," Bourla told the Atlantic Council. "They're not bad people. They're criminals because they have literally cost millions of lives ... The only thing that stands between the new way of life and the current way of life is, frankly, hesitancy to vaccinations."


Pfizer successfully lobbied the US government and other governments around the world to mandate all citizens inject his pharmaceutical product in order to have a job, attend school or visit public venues.

Most covid restrictions were lifted over the past year due to widespread backlash and overwhelming evidence proving Pfizer, Moderna and Johnson & Johnson's experimental vaccines were total failures at stopping the spread of covid.

Follow InformationLiberation on Twitter, Facebook, Gab, Minds and Telegram.