Video Released of Police Response to Uvalde Robb Elementary School Shooting
Chris Menahan
InformationLiberation
Jul. 12, 2022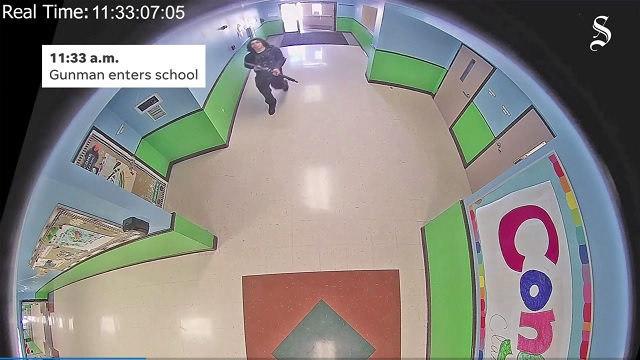 The Austin-American Statesman on Tuesday released edited footage showing gunman Salvador Ramos entering Robb Elementary School and heavily-armed police waiting an hour and 14 minutes to charge into the classroom and kill the assailant.

WATCH:



From The Statesman:

A 77-minute video recording captured from this vantage point, along with body camera footage from one of the responding officers, obtained by the American-Statesman and KVUE, shows in excruciating detail dozens of sworn officers, local, state and federal — heavily armed, clad in body armor, with helmets, some with protective shields — walking back and forth in the hallway, some leaving the camera frame and then reappearing, others training their weapons toward the classroom, talking, making cellphone calls, sending texts and looking at floor plans, but not entering or attempting to enter the classrooms.

The Statesman is publishing an edited version of the video to show how the law enforcement response unfolded.

Even after hearing at least four additional shots from the classrooms 45 minutes after police arrived on the scene, the officers waited.

They asked for keys to one of the classrooms. (It was unlocked, investigators said later.) They brought tear gas and gas masks. They later carried a sledgehammer. And still, they waited.

Officers finally rushed into the classroom and killed the gunman an hour and 14 minutes after police first arrived on the scene. Nineteen fourth graders and their two teachers died in the massacre on May 24, days before the end of the school year.
Texas Department of Public Safety Director Steve McCraw testified last month that police could have stopped the shooter within three minutes if they swiftly engaged him rather than take cover and hide in the name of officer safety.

The American people need to be disarmed so cops like these can "protect us."

Follow InformationLiberation on Twitter, Facebook, Gab, Minds and Telegram.