Conservatism Inc. Goes All-In On Cassidy Hutchinson's "Devastating" Testimony
Chris Menahan
InformationLiberation
Jun. 29, 2022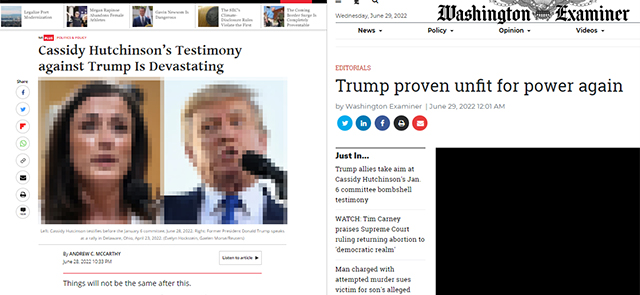 ConInc is going all-in on Cassidy Hutchinson's "devastating" testimony before the Jan 6 Committee and they don't care that her story is already falling apart.

National Review's Andrew McCarthy wrote an article on Tuesday titled, "Cassidy Hutchinson's Testimony against Trump Is Devastating," and reshared it Wednesday on Twitter.

"Things will not be the same after this," McCarthy opined in his piece, claiming her testimony "was devastating."


McCarthy noted how questions have been raised about Hutchinson's secondhand account of Trump supposedly lunging for and grabbing the steering wheel of the presidential limo but said we should believe her anyways.

"She heard the story from [Secret Service official Tony] Ornato, who got it from [Secret Security lead agent Bobby] Engel. That's true," McCarthy said. "Still, a few things are worth bearing in mind. First, this isn't just any hearsay — like idle chatter a witness might eavesdrop on. We're talking here about a chain of command, where government officials are expected to report things to their superiors — in this instance, up to the president's chief-of-staff. More to the point, Hutchinson learned these details just minutes after the encounter in the limo. Ornato came directly to Meadows's office with Engel. As Engel looked in apparent affirmation, Ornato relayed what had just happened to Hutchinson. Engel gave no indication that Ornato had gotten any of the details wrong. And if Hutchinson is lying or exaggerating, it's strange that, under oath, she would voluntarily identify so many witnesses who could contradict her."

Engel said yesterday he's willing to testify under oath against Hutchinson because the incident never happened.


The editorial board of Philip Anschutz's Washington Examiner joined the National Review with a column published on Wednesday titled, "Trump proven unfit for power again."


"Former White House aide Cassidy Hutchinson's Tuesday testimony ought to ring the death knell for former President Donald Trump's political career," the Examiner said. "Trump is unfit to be anywhere near power ever again."

"Hutchinson's resume alone should establish her credibility," the Examiner declared.

The Examiner said the "worst by far" of Hutchinson's accounts of Trump's actions "was that people immediately returning from being with Trump in the presidential vehicle told of the president trying to grab the wheel of the car to force it to be driven to the Capitol and then violently reaching for the neck of Secret Service agent Bobby Engel, who headed the president's protective detail."

They left out that NBC News reported that Engel and the presidential driver have both said the "lunging at the steering wheel" incident never happened and they were never assaulted by Trump.

They also left out how former White House lawyer Eric Herschmann said he wrote a handwritten note that Hutchinson claimed to have written herself.


Both of those stories broke before their column was published but they just ran with it anyways because they hate Trump and want a more compliant GOP shill to replace him.

Related: National Review Helped Jeffrey Epstein Rehab His Image After Child Solicitation Conviction

Follow InformationLiberation on Twitter, Facebook, Gab, Minds and Telegram.