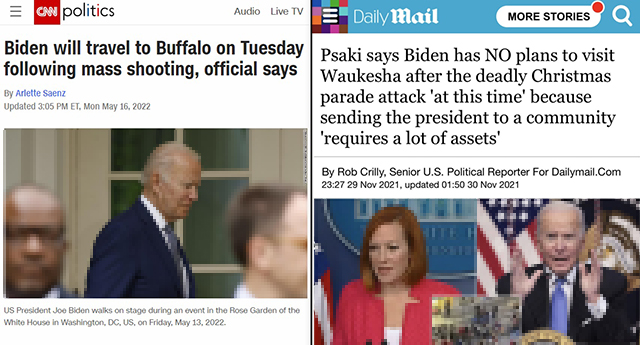 The White House announced Sunday that Joe Biden will be traveling to Buffalo on Tuesday to meet with the families of the victims of Saturday's mass shooting.

"We're still gathering the facts, but already, the Justice Department has stated publicly that it's investigating the matter as a hate crime, racially-motivated act of white supremacy and violent extremism," Biden said on Sunday. "As they do, we must all work together to address the hate that remains a stain on the soul of America. Our hearts are heavy once again, but our resolve must never waver."

Biden was quick to label the Buffalo attack "an act of domestic terrorism" but eschewed the terrorism label when it came to Waukesha, referring to the attack instead as a "horrific act of violence."


Biden skipped out on visiting to Waukesha in the wake of the attack.

"Obviously any president going to visit a community requires a lot of assets ... requires taking their resources," White House press secretary Jen Psaki said last year after the attack. "And it's not something that I have a trip to preview at this point in time, but we remain in touch with local officials."

White House press secretary Karine Jean-Pierre on Monday was asked by Fox News reporter Peter Doocy why Biden is visiting Buffalo now but couldn't find the time to visit Waukesha.

"I mean, he's visited many communities," Jean-Pierre responded.


Follow InformationLiberation on Twitter, Facebook, Gab, Minds and Telegram.