Noam Chomsky: Trump is The 'One Western Statesman of Stature' Pushing For End to War in Ukraine
Chris Menahan
InformationLiberation
May. 02, 2022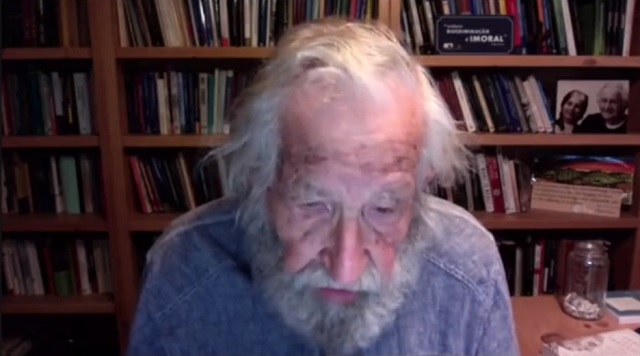 Leftist intellectual Noam Chomsky said in a recent interview that Donald Trump is the "one Western statesman of stature" pushing for a diplomatic solution to the war in Ukraine rather than looking for ways to fuel and prolong it.

As Glenn Greenwald reports:



Only 10 Republicans in the House voted last week against massively escalating the US proxy war with Russia through a Lend-Lease program with Ukrainian (to supply them endless weaponry on credit).


Those are the only representatives worthy of our vote. The Senate passed the bill unanimously.

"Every vote to provide military assistance to Ukraine draws us closer to a war with Russia," Arizona Rep. Paul Gosar (R) said. "This is not our fight. I reiterate my hope for immediate peace talks and resolution of hostilities. Sending more weapons of war is counter to peace and will extend the death and destruction."

There was another remarkable interaction around a week ago where Marie Yovanovitch, the former US Ambassador to Ukraine under Trump who testified against him during the 2019 impeachment trial, hilariously stumbled into admitting that if Trump was in office he would have averted the war diplomatically -- but then pivoted into insisting that's a bad thing.


The fact the entire GOP establishment is backing this proxy war and seeking to extend it for as long as possible at tremendous risk to the US is an absolute disgrace.

Follow InformationLiberation on Twitter, Facebook, Gab, Minds and Telegram.